Frank Buchwald's Nixie Machine illuminates time at Geneva's MAD Gallery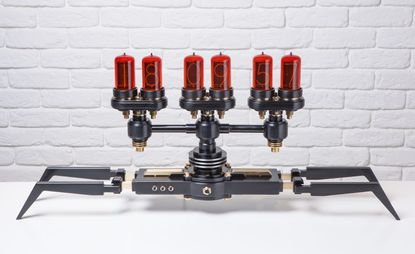 (Image credit: press)
It's good to know that the fascination with finding new ways to tell the time is not a wrist-focused pursuit. And our friends at Geneva's MAD Gallery, dedicated to all things mechanical, are just the people to underline the point. Frank Buchwald's Nixie Machine (opens in new tab), currently on show there, is so nicely considered as to remind us that the display clock is not yet relegated to a bygone era - even if it is inspired by one.
Of course, you can still pick up Nixie bulb clock designs, but Buchwald's look different. They are different: the Nixie Machine's hours, minutes and seconds indicators are beguiling because of their particularly authentic glow - achieved using original, preserved Z568M Nixie tubes manufactured by RFT in Communist East Germany during the 1960s.
Buchwald, a German artist and former science-fiction illustrator, branched into interior and furniture design and is known for his Machine Lights, a series of handcrafted steel and brass lighting with an old-school industrial bent.
'The way I have combined a metal and a luminous element here is not dissimilar to my Machine Lights,' says the designer. 'But this time, there was a numerical aspect to my creation - a clock. When you grapple with numbers - sequence them, order them - you soon end up working with a numerical philosophy, and I found this fascinating, so the six Nixie tubes needed to take centre stage.'
First popular in the 1950s, Nixie tubes, connected via electronic circuitry, used 'glow discharge' to present figures and were seen as the perfect indicators for multi-digit displays on computers, counters and clocks. Now, they are hugely collectable and it was MB&F (opens in new tab) friend and Nixie clock aficionado Alberto Schileo who, having sourced the tubes - tucked away in a sealed Bulgarian army depot - approached Buchwald with an idea.
'I had a once-in-a-lifetime opportunity to acquire such beautiful "new-old stock",' Schileo recalls, 'so I started thinking about a high-end Nixie clock and Frank's work immediately came to mind.' Schileo then collaborated with Buchwald, creating the electronic circuit board that enables the Nixie Machine's six-digit display.
The clocks - just 12 have been made - are undoubtedly nice on the eye but Buchwald's process, particularly his pen-and-marker technical drawings, add a heartfelt quality: 'I am passionate about sketching because it helps me find the essence of a new object,' he says. A prototype follows which, in the case of the Nixie Machine, took a year to complete. The finished Nixie Machines are made up of 350 handcrafted pieces, created by Buchwald from bars and blocks of raw metal, and, of course, six authentically robust tubes.
'The way I have combined a metal and a luminous element here is not dissimilar to my Machine Lights,' says the designer. 'But this time, there was a numerical aspect to my creation - a clock. When you grapple with numbers - sequence them, order them - you soon end up working with a numerical philosophy, and I found this fascinating, so the six Nixie tubes needed to take centre stage'
First popular in the 1950s, Nixie tubes, connected via electronic circuitry, used 'glow discharge' to present figures and were seen as the perfect indicators for multi-digit displays on computers, counters and clocks. Now, they are hugely collectable and it was MB&F friend and Nixie clock aficionado Alberto Schileo who, having sourced the tubes - tucked away in a sealed Bulgarian army depot - approached Buchwald with an idea