Olafur Eliasson's 'Baroque Baroque' opens at The Winter Palace in Vienna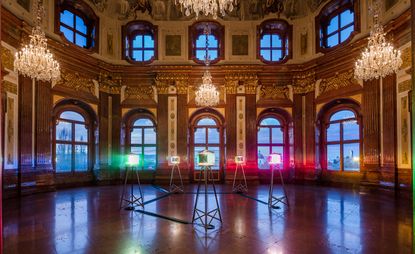 (Image credit: Anders Sune Berg, The Juan & Patricia Vergez Collection, Buenos Aires)
This exhibition, says Danish-Icelandic artist Olafur Eliasson, started life as an exploratory collaboration between three different artistic perspectives: the institutional, in the form of the Baroque Belvadore Winter Palace in Vienna; private collections – the city's Thyssen-Bornemisza Art Contemporary (TBA21) and Buenos Aires' Juan and Patricia Vergez; and his own science-oriented studio. The result is a fascinating show of the artist's 'new works made a long time ago', ''Baroque Baroque' which opened on 19 November.

The show – set amid the 16th century grandeur of the Winter Palace – is a meeting of art and world views from two very different eras, suggesting an unstable reality characterised by a constant process of evolution. 'I like Baroque, but I also like the Viennese clarity about Baroque; it's not just romantic and nostalgic, it's a very crisp and contemporary interpretation in general here,' Eliasson says. 'The staging of Baroque is actually very much not taking people away into a dream, but saying the dream is actually here in our daily lives. I like it very much because you can be pragmatic and dream at the same time.'

The experience begins at the entrance hall, where the light installation Die Organische und Kristalline Beschreibung (1996) saturates the space with blue and yellow light that diminishes one's sense of stability. At the staircase leading to the main exhibition hall, the monochromatic Yellow Corridor (1997) provides visitors with an enhanced awareness of the show in front of them.

Among the artworks on the main floor is a 30-metre long mirror traversing the enfilade of the grand rooms. The chief curator of 21er Haus, Mario Codognato, who is behind the show – the Winter Palace's first contemporary art monograph – says: 'The mirror is the most extraordinary thing that happened in the exhibition, it connected and transformed the entire space and at the same time charged his works with a new energy.' The mirror further disorients the viewers by folding and refolding the complex spaces it produces, it also creates an extra dimension by making them part of the setting among the artworks. To experience merging of reality and illusion at its outmost, go to the Hall of Battle Paintings to see the Wishes Versus Wonders (2015), where a brass ring that is half real, half reflection plays uncanny tricks with the space.

TBA21 has also announced its next collaboration with Eliasson – 'Green Light' – which will be launched next February. The three-month workshop at Augarten will be a response to the current refugee crisis and the precarious processes of displacement and migration.
INFORMATION
'Olafur Eliasson: Baroque Baroque' runs until 6 March 2016. For more information, visit Olafur Eliasson's website
ADDRESS
Himmelpfortgasse 8
1010 Wien
Oostenrijk
VIEW GOOGLE MAPS (opens in new tab)