Culture, creativity and concrete in Reykjavík
Perfectly located between North America and Europe, Reykjavík has become a cultural pitstop for collectors, attracted by the Icelandic capital's vibrant art scene, emerging gallery spaces, and striking architecture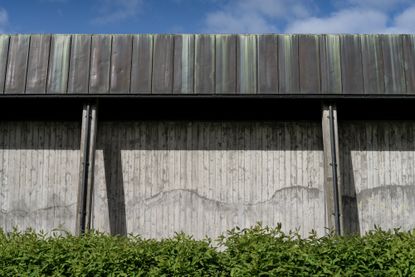 (Image credit: Björn Árnason)
Iceland may be first known for its unique geography and extreme climate, but it is equally notable for its cultural landscape, born of the dialogue between the natural environment and the burgeoning creative class. In spite of its small population (135,422 people as of April 2022), Reykjavík has carved out a foothold as an art capital, thanks to the recent emergence of several new art destinations in Reykjavík and a loyal following of international visitors, many of whom are finally venturing to its shores again. Located within manageable distances of the American East Coast, Scandinavia and continental Europe, Reykjavík has become a natural pitstop for inbound collectors attracted by a vibrant art scene that resonates just as strongly with its domestic audience.
'In the last few years, we've seen a lot more people travel here with art in mind. Art people also notify us that they're coming because we're in a small place, and that's such a luxury,' says Börkur Arnarson, co-founder of i8 Gallery, the country's leading contemporary art gallery. A champion of Icelandic artists since it was founded 26 years ago, the gallery now represents some of the island nation's biggest names, including Olafur Eliasson, Ragnar Kjartansson, and Roni Horn, an American who has visited Reykjavík regularly since 1975. 'Our location has always been our biggest problem and our biggest asset.'
Arnarson has played a key role in establishing Reykjavík's artistic points of difference. This January, he inaugurated i8 Grandi, the gallery's second, significantly larger outpost that resides within Marshall House, a former fishing factory turned multidisciplinary art space. Nestled in the Grandi harbour district amongst traditional fishing warehouses, many of which have been converted into boutiques and restaurants, Marshall House is a prime example of historic and contemporary Reykjavík co-existing in irreplicable harmony.
The development of Marshall House was instigated by Ásmundur Hrafn Sturluson and Steinþór Kári Kárason of Kurtogpí Architects, who spotted the vacant building from the water while conducting a student tour in 2012, and then brought Arnarson on board to help steer its programme. 'Taking inspiration from spaces such as the Löwenbräukunst in Zurich, we felt that Reykjavík could use a multi-purpose arts space,' Arnason recounts. The building's renovation was completed in 2017. Apart from i8 Grandi, which sits over two floors, Marshall House is also home to the Living Art Museum, one of the oldest artist-run institutions in Europe, and the non-profit gallery Kling & Bang, a cherished favourite amongst locals. Olafur Eliasson's private studio occupies the building's top floor, while the ground floor is home to La Primavera, a restaurant that mixes Italian and Icelandic influences.
At i8 Grandi, Arnason has installed a novel, long-form presentation model that sees a single artist take over the exhibition space for an entire year. '[This concept] allows us to show new works along with old works, and to give artists the freedom to work in a different format,' he says. 'It will not be static for the whole year either, but a thoughtful, breathing exhibition.'
An acute understanding of time and space is one of the qualities that makes Icelandic art so captivating. The widely oscillating climate – which transforms from the barren, snow-covered landscape during the winter months, when as little as three hours of daylight is commonplace, into a vast and verdant expanse in the summertime, drenched in supernatural, never-ending light – fosters a unique level of introspection within all who live there. The country's extreme character is also rooted into its bedrock, which has volcanoes, geysers, lava fields and hot springs hidden in plain sight. That latent drama and sense of solitude has proven to be a great creative stimulus, affording local artists, musicians and designers the time to refine their practices and points of view.
Icelandic artists have an astute ability to delve into microscopic details. A fascination with the unseen or the overlooked is one common thread that weaves through a range of mediums, be it the introspective multimedia work of artist Sigurður Guðjónsson, who represents Iceland at this year's Venice Biennale with the multi-sensory sculpture Perpetual Motion, or in Eliasson's dynamic, faceted facade for Harpa, Reykjavík's concert hall and conference centre, inaugurated in 2011.
Guðjónsson's perception-bending video piece, which zooms in on the formations metal dust makes when attracted to a magnetic rod, invites viewers to reconsider the abstract. Scored to an atmospheric soundtrack and enlarged in projection, the work transports viewers to another world, in a similar way to Eliasson's crystalline facade. Based on the extensive research of architect/mathematician Einar Thorsteinn, a follower of Buckminster Fuller who had a deep interest in geometrical structures, Eliasson's facade incorporates 'quasi-bricks' –12-sided polyhedrons comprising hexagonal and rhomboidal faces. It exudes a frenetic combination of regularity and irregularity that creates different effects when experienced up close or from afar. Each module is installed with panes of colour-effect filter glass, making the entire building equally subject to the changing weather, light, and time of year as the people who visit it.
This sensitivity to the surrounding environment is a deeply-rooted aspect of Icelandic identity and one that's articulated architecturally at the Reykjavík Art Museum Kjarvalsstaðir, a Nordic modernist building designed by Hannes Kr. Davíðsson and built in 1973. Featuring a copper roof, board-formed concrete walls and floor-to-ceiling windows that look onto a central courtyard while immersing visitors into the surrounding Klambratún park, the building is topped with a scheme of geometric skylights which diffuses natural light into its galleries, be it the sun's long trajectory in the summer or its low position in the winter.
If Kjarvalsstaðir represents Iceland's artistic past, then Höfuðstöðin, an immersive destination created by the New York-based Icelandic artist Hrafnhildur Arnardóttir (also known as Shoplifter), encapsulates its future. Designed to permanently house Arnardóttir's Chromo-Sapiens piece, which was unveiled at the Icelandic Pavilion of the 2019 Venice Biennale, Höfuðstöðin is a cavernous, multi-sensory experience, made from colour-drenched, dendritic swathes of artificial hair.
Led by Arnardóttir and her business partner Lilija Baldurs, it builds on an existing tradition of private Reykjavík institutions dedicated to a single artist, like the Sigurjón Ólafsson Museum and the Einar Jónsson Museum, and is the first female-led art centre dedicated to a single female artist. Located in a historic barrack structure on the way out of the city and overlooking Elliðaárdalur valley, the surprising and disarming space presents the three-cave installation alongside a café, lounge and gift shop, once again embedded in nature.
'Being from Iceland, we are born with this desire to explore because we feel so far removed from the rest of the world. It's a state of mind. It's different from being from somewhere with other countries surrounding you. People become very inventive because it's so self-contained,' reflects Arnardóttir, who has been based in New York for the last 25 years. 'You are totally isolated and when you're bored growing up, you just have to come up with stuff to do. I didn't realise how unique this was until I moved away.'
'I always had this desire to create an immersive experience, where people feel like they're in a landscape. The hair and the way I installed it is reminiscent of the nervous system in our brains. Underneath our skin, there is a whole landscape that we don't pay attention to, and there are colours, sounds, shapes and movement [there too],' she continues. '[Walking in] is like diving underneath the surface of yourself or your psyche.'
With an exciting culinary scene – the elevated gastropub Matur og Drykkur is a perennial favourite with its creative spin on traditional Icelandic cuisine – and no shortage of creature comforts – its first 5* hotel, the Edition Reykjavík opened last November – Reykjavík's allure is aptly summed up in the words of Roni Horn, who published a book in 2021, Island Zombie: Icelandic Writings, chronicling her impressions during her countless visits to Iceland over the last 45 years. Horn writes, 'Iceland is young, so young erosion hasn't yet obscured the origin of things. Youth and no trees reveal things rarely seen anywhere.' To see it is truly to believe it.
INFORMATION
hofudstodin.com (opens in new tab)
Pei-Ru Keh is the US Editor at Wallpaper*. Born and raised in Singapore, she has been a New Yorker since 2013. Pei-Ru has held various titles at Wallpaper* since she joined in 2007. She currently reports on design, art, architecture, fashion, beauty and lifestyle happenings in the United States, both in print and digitally. Pei-Ru has taken a key role in championing diversity and representation within Wallpaper's content pillars and actively seeks out stories that reflect a wide range of perspectives. She lives in Brooklyn with her husband and two children, and is currently learning how to drive.
With contributions from