Olafur Eliasson saturates Palazzo Strozzi in VR, illusion and Renaissance rationality
In 'Nel Tuo Tempo', a major show at Florence's Palazzo Strozzi, Olafur Eliasson bends perceptions of Renaissance architecture through dazzling site-specific installations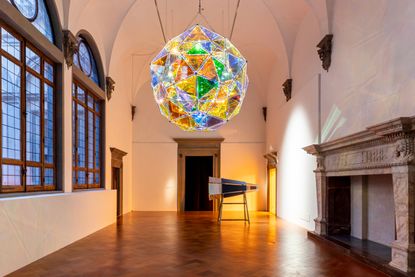 (Image credit: Ela Bialkowska/ OKNOstudio)
In 1466, when Filippo Strozzi was allowed to return to Florence following his banishment by the rival Medici family, he set out to build the city's grandest palazzo as an act of status and power.
Palazzo Strozzi sits like a lump of solid geology in the centre of Florence. With walls formed of oversized rusticated stone blocks, it has the feel of a fortress: thick, defensive, with a grid of double windows wrapping its four sides.
Since 2006 it's been home to Fondazione Palazzo Strozzi, which has staged exhibitions by leading contemporary artists with an occasional classical superstar thrown in; comfortably hosting Carsten Höller's slides and Jeff Koons' dazzling orbs, as well as Donatello's sculptures. In his new show, 'Nel Tuo Tempo', Olafur Eliasson has become the latest to fill the Renaissance rooms, in his words 'with nothing but ephemera – water, temperature, light'.
'Usually, an exhibition is a survey or just new work, but this is both,' the Icelandic-Danish artist tells Wallpaper*, and with curator Arturo Galansino, Eliasson and his studio have composed an exhibition of new site-specific works alongside a selection from three decades of creative experimentation with light, technology, and experience. That last component, experience, has remained central to Eliasson's work, but here it's emphasised – 'I think an experience is not something that happens to us… but experiencing is something we do.'
The first three rooms feature new site-responsive works, ideas so rooted in the palazzo's architecture that it is hard to imagine how they could ever be exhibited elsewhere. Eliasson focuses on the palazzo's windows, which puncture those thick, defensive façades, to open conversation between internal spaces and the civic realm beyond. Spotlights with colour filters affixed to a neighbouring building shine across the street and through a palazzo window, casting a triplicate upon a screen inside and turning the transparent window into a repeating vapourwave sunset. Another installation projects through a window from inside to out, bouncing off a mirror beyond and back into the palazzo, reverberating the colours into a shimmer of yellow and blue.
The largest of these window works is monochrome. Spotlighted from the palazzo's courtyard, it duplicates a gridded window onto the gallery wall. In this ghostly repetition, Eliasson makes visible the glass's impurities, dust, and centuries of patina – 'When looking, we forget that the window is editing what is outside, the window is a lens … and lenses are part of the reality, we do not see an objective truth,' he says.
The central courtyard itself is a semi-public space for the city, open from the street for passersby to wander into. It's here that visitors this autumn will encounter an Eliasson intervention, a vast, suspended elliptical form with a disrupting moiré pattern formed from its two layers. Walking into the courtyard and under it, the interference ripples, while within the rational geometry and symmetry of the courtyard the sculpture appears to shapeshift, becoming a circle and then stretching back to an ellipse.
Other rooms feature various Eliasson works which he selected to speak to the underlining themes of translucency, thresholds, and objectivity. Beauty (1993) comprises a wall of mist, the angled light refracting in the droplets to form a rainbow curtain that can be walked through. With a mirrored ceiling and semicircular arc dropping to the floor, How do we live together? (2019) erupts the space, disorientating the visitor who, looking up, sees themselves and a perfect sphere – a Renaissance rationality through deceit and illusion.
Windows reappear in a room featuring Triple window (1999), formed of three overlapping theatre spotlights projecting the form of a night-time window, here stretched and confusing the geometry. Facing it is Your timekeeping window (2022), in which the artist has embedded 24 glass spheres into a wall. We can see the palazzo window behind but it is inverted and deformed, each globe twisting the architecture in a subtly different way which dances as one walks past, an encounter which keeps shifting.
Another new work, Your view matter (2022), made in collaboration with Metapurse (a crypto fund founded by the pseudonymous collector Metakovan), is Eliasson's first reach into virtual reality. With an ambient soundtrack created by the artist, the digital explorer can meander around various geometrical spaces, with more moiré and playful twists of colour and form. The most interesting moments are when crossing from one 'room' into another, and the two imagined aesthetics overlap and clash. In a future-looking way, lingering in that digital threshold seems to poetically riff on Eliasson's studies of the glass windows, despite the two different architectures of palazzo and VR having five centuries between their constructions.
INFORMATION
Olafur Eliasson: 'Nel Tuo Tempo', until 22 January 2023, Fondazione Palazzo Strozzi, Florence. palazzostrozzi.org
Receive our daily digest of inspiration, escapism and design stories from around the world direct to your inbox
Will Jennings is a writer, educator and artist based in London and is a regular contributor to Wallpaper*. Will is interested in how arts and architectures intersect and is editor of online arts and architecture writing platform recessed.space and director of the charity Hypha Studios, as well as a member of the Association of International Art Critics.