The new nude? Radical show explores the naked body in photography
'Nude' at Fotografiska New York will present a diverse survey of nude subjects in contemporary photography, which confronts the complex historical fascination with the naked body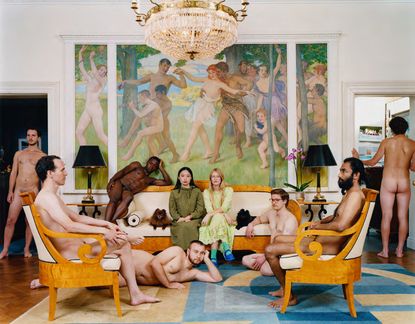 (Image credit: Yushi Li)
The naked human body holds bewildering cultural gravity. This visceral and vulnerable machine, of which there are no exact copies, simultaneously carries beauty, ugliness, desire, eroticism, purity, reverie, politics, taboos, myriad identities and endless contradictions.
It's subject to censorship, vulnerable to exploitation and sexualization, yet, for centuries, has been a source of fixation in art. In the hierarchy of art history virtue, 'nude' has been ranked above 'naked'. The former alludes to autonomy, respectability and objective study, devoid of crude sexuality. Naked, conversely, suggests unwilful exposure, scrutiny and shame. This is a rapidly eroding distinction that began when fearless feminist artists revolted in the mid-20th century. In contemporary art, nudity – a term so potently linked to a male gaze on women – appears to have lost its lustre, while nakedness is synonymous with truth and authenticity.
'Nude', an exhibition at Fotografiska New York will look back on this gaze, and look hard. The show, which opens on 11 February 2022, explores the naked body through different aesthetic lenses: poignant, macabre, glamorized and disorientating.
Though the show is limited to work by 30 female-identifying photographers (an effort to counteract male-dominated perspectives on nudity), the subject matter is not limited by gender identity. Featured artists, representing 20 nationalities, include nonbinary individuals, men, and women, among whom are transgender individuals sharing their surgical transitions. In an image by Japanese artist Momo Okabe, the subject is a confidently posed woman. Her breasts are surgically augmented; oestrogen has feminized her silhouette, yet she retains her male genitalia. In another series, Israeli-American photographer Elinor Carucci explores the human condition of midlife adulthood – with resolutely non-glamorous, stoically postured men and women in their fifties.
'Unlike painting, photography is not a medium that has been "owned" by men for centuries. In art, we have mostly been presented with the same kind of nude through our modern Western history. A consideration most often decided and depicted by men, for an audience of men,' says Johan Vikner, director of global exhibitions at Fotografiska. 'This collection of contemporary female artists using the nude body as their language, be it their own or others, for the sake of art, beauty, representation, self-expression, as a subject and object, is an example of what this new nude is and what it looks like.'
'Nude' emphasizes that even in an age of increased consciousness, there are some naked human bodies that are seen more than others. This still seems prevalent in advertising, where smooth-skinned, firm-bodied ideals peddle youth and beauty as the currencies worth circulating.
But under this flawless skin is a rotten deception, one deepened by a social-media saturated society. 'Most of the bodies we see online on a daily basis aren't even real, but rather enhanced or modified by technology to conform to a current, unsustainable trend,' says LA-based photographer Julia SH, who is exhibiting powerful, textured portraits of bodies rarely depicted in 21st-century media, presented in museum-like frames. 'In the US, what little nudity permitted is usually shown in a sexual context. Seeing nudes in a museum is one of the only exceptions to this. I created a series where I framed my models as sculptures and works of art in the hope that the viewer will suspend any judgments about whether they find the models sexually attractive or not, or whether their bodies are socially "acceptable". The more body types we are exposed to, the more pragmatic our view will become.'
French-Uruguayan photographer Bettina Pittaluga's work in 'Nude' focuses on physical intimacy, which, as the artist explains, 'can be revealed by being in someone's personal space, or bonding through physical contact, by skinship. What interests me [about] nudity, from a pictorial and emotional point of view, is the expression of the skin. It necessarily involves the other senses because it is impossible not to see, hear and smell people when you are close enough to touch them.'
But why does Pittaluga think it's important for contemporary photography to offer visibility to all body types? 'I hope that one day this kind of question will no longer exist,' she says. 'I am focused on giving a voice and visibility to those who are not or too little represented. It is very important to me to do everything to deconstruct this hegemony, I am committed to invoking all these fights until they are won.'
Arvida Byström is presenting Cherry Picking. The series is a mix of still lifes and selfies, both of which have been feminised and dismissed as 'low brow', according to the artist. Her work also alludes to the tension between nudity and censorship on social media, which is the subject of fierce debate. 'I also have a photo of my friend Adam Pettersson's bum and balls through Lazoschmidl underwear with a cherry on top. It's a photo that I love but that is very hard to post and show through the big online platforms, so I am very happy to show it to a wide audience,' she says. 'What I'm showing isn't necessarily underrepresented bodies, and I do personally feel there is an issue to see this as a virtue in itself; what happens when these bodies have been represented for a while? Are they all of a sudden irrelevant? With that said, it is very exciting and fun to see works in a wide array of expressions including different body shapes. I think everyone will find at least one photographer they like in this show!'
Although broad and complex in content, the curatorial focus of 'Nude' is distilled. It portrays the body through beautiful, disruptive, and experimental lenses, subverting the historically dominant male gaze and celebrating the human form in all its rich variety. This is not nakedness under a veil of nudity, this is nakedness as power.
INFORMATION
'Nude', 11 February-1 May 2022, Fotografiska New York. fotografiska.com (opens in new tab)
Harriet Lloyd-Smith is the Arts Editor of Wallpaper*, responsible for the art pages across digital and print, including profiles, exhibition reviews, and contemporary art collaborations. She started at Wallpaper* in 2017 and has written for leading contemporary art publications, auction houses and arts charities, and lectured on review writing and art journalism. When she's not writing about art, she's making her own.