Dark magic: Nico Vascellari's bewitching installation sets the Whitworth alight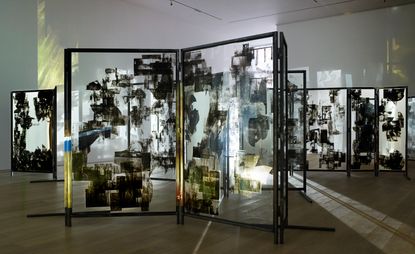 (Image credit: Michael Pollard. The Whitworth)
Italian artist Nico Vascellari has opened a portal to a mystical world for a new exhibition in Manchester, where he has installed his haunting Bus de la Lum in the Whitworth's Landscape Gallery. The mysterious place from which the work takes its name – which translates as 'hole of light' – is an ancient forest on the Cansiglio plateau associated with pagan rituals and Satanic fables.

Folkore has it that wild witches, the anguane, would emerge from the sinkhole to kidnap and devour children; shepherds named it for the fires the witches would light at the cavity's mouth. During the Second World War, Bus de la Lum was used as a death pit for hundreds of prisoners and casualties of wars, cementing its notorious reputation.

A vast, burning crater in the desert of Turkmenistan, known as the The Door to Hell (or Darvaza Crater), similarly inspired Vascellari and the occult energy of these two places becomes intertwined in his latest exhibition. The artist has projected footage of these gateways onto multiple glass and mirrored screens, which in turn reflect back into or pierce the space creating a chiaroscuro effect along the walls. Of his connection to them, he says, '[It] is not only geological, but also anthropological.'

These places generate an idea of evil detached from a moralistic point of view. 'Because of the way they are edited and projected the images are barely recognisable but the dancing colours scattered on the gallery's walls suggest you are entering a natural landscape,' Vascellari explains.

The Vittorio Veneto-born artist was formerly a singer in 1990s Italian hardcore/post-punk band With Love and is currently one half of percussion-cum-techno duo Ninos du Brasil. Naturally, music is central to his artistic practice. In Bus de la Lum, visitors are immersed in an evocative soundtrack created in collaboration with Turkish musician Ghédalia Tazartès. 'The soundtrack is a chorus of two voices, the one of Ghédalia Tazartès and mine, recorded during an improvised live session,' says Vascellari. 'Just like Bus De La Lum and Darvaza, voice is a door to the unknown. It is a fossil of human experience.'

Elsewhere in the Whitworth, the artist's dark, abstract collages form a dialogue with other works in the gallery's permanent collection. Outside in the surrounding parklands, his contorted bronze sculptures take their place among the trees. Vascellari's work creates a real-world tether to mythical places, and that appeals to our darker side.
INFORMATION
'Bus de la Lum' is on view in Whitworth's Landscape Gallery until 18 September. For more information, visit the Whitworth's website (opens in new tab)

Photography: Michael Pollard. Courtesy of the Whitworth
ADDRESS
The Whitworth
The University of Manchester
Oxford Road
Manchester M15 6ER