Subtle synergy: Nico Vascellari's futurist intervention at London's Estorick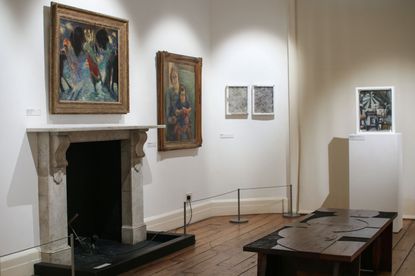 (Image credit: Claudia Zanardi, The artist and Bugada&Cargnel, Paris)
We jumped while wandering through the usually calm and serene Estorick Collection in London's Canonbury last week. Walking up the stairs, an innocuous hanging light bulb quickly jerked up and down, drawing attention from the modern Italian works that comprise the Esoterick's core collection, if just for a moment.

That diversion was Bulb, a performance piece by contemporary artist Nico Vascellari that automatically moves every 40 seconds. It's part of a new exhibition comprising six of his works, collectively titled 'Fossils of Experience'; scattered among the Estorick's permanent collections, the young Italian's art is directly juxtaposed with that which influenced it.

Vascellari's broad oeuvre includes music, visual and performance art. 'Around 1990 I discovered hardcore music through skateboarding,' he explains, 'but the concerts were happening way too far [away], so I started to organise concerts in the living room of my parents house when they were away. Since then, the concept of "Do It Yourself" has become a life philosophy for me.' He applied this initiative to his creative practice from the outset (as well as to his extracurricular interests – he plays in a techno band, Ninos Du Brasil).

A reflection of his punk salad days, a work entitled 1990 is made of smashed wine and beer bottles encased in a wooden frame, displayed between Umberto Boccioni's 1909 Portrait of Betty and Nora Baer and Ardengo Soffici's cubist work Deconstruction of the Planes of a Lamp. In the same room, you can't help but notice the thumping sound of Fossils of Experience; settled on a hearth, the iron and wood mechanism moves to make an abstract beat, inspired by the musical works by Luigi Russolo that sit on the wall opposite.

The exhibition continues with a synergy that Estorick describes as an 'intervention'. To wit, he delicately manipulates the knots and holes in his diptych Into the Infinity of Thoughts. The two mirroring wood panels loom large in the space, with their flaws moved around.

The final space, filled with modernist drawings by Mario Sironi, sees a double-faced terracotta owl, its plumage reworked as a hand, set close to the ceiling on a branch-like wooden beam. Vascellari's piece, Through a Hole, adds a touch of light humour to proceedings, the 'hand' grasping towards the one other sculpture in the room, Emilio Greco's Crouching Nude.

'It is somehow a forced dialogue,' says Vascellari about the link between his work and the permanent collection. Next up is yet another solo show on British turf; the more ominous and arcane glass show, 'Bus de la Lum', at Manchester's Whitworth gallery.
INFORMATION
'Fossils of Experience' is on view until 3 April. For more information, visit the Estorick Collection of Modern Italian Art's website
ADDRESS
Estorick Collection of Modern Italian Art
39a Canonbury Square
London, N1 2AN