Finders keepers: the New Museum brings together over 4,150 collected objects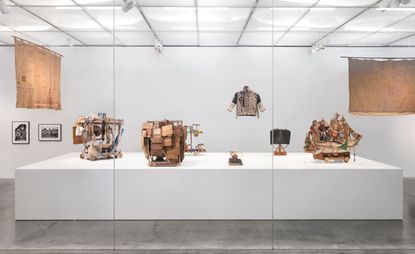 (Image credit: Maris Hutchinson/EPW Studio)
Stacks of over 300,000 drawings, assemblages of collected hair and debris, as well as meticulously hand-carved wooden figurines make up just a few of the items on display in the New Museum's latest exhibition, 'The Keeper'. It's a show which effectively blends the boundaries between curating, creating, and collecting art.

Dedicated to the act of preserving and collecting, 'The Keeper' tells the stories of individuals through the objects they chose to safeguard. With more than 4,150 objects on display, the show marks the largest number of objects that have ever been on view for an exhibition in the museum's 39-year history.

'This exhibition blurs the lines between artist and non-artist, professionals and amateurs,' says Massimiliano Gioni, who curated the exhibition alongside artistic director Edlis Neeson, and a curatorial team comprised of Natalie Bell, Helga Christoffersen, and Margot Norton.

'It's an exhibition about collecting, saving and preserving artworks, artifacts, objects and images,' he continues. 'Through a series of portraits and case studies spanning the 20th century, the exhibition raises questions around notions of value and ownership.'

At the centerpiece of the exhibition is Partners (The Teddy Bear Project), a display of over 3,000 family-album photographs of teddy bears and their owners collected by Ydessa Hendeles. 'It looks at people through the trails of images that they left behind and, in doing so, I hope, invites us to engage more affectionately with the images that surround us every day,' says Gioni.
INFORMATION
'The Keeper' is on view until 25 September. For more information, visit the New Museum's website (opens in new tab)
ADDRESS
New Museum
235 Bowery
New York, NY 10002
VIEW GOOGLE MAPS (opens in new tab)