Kindred spirits: Mickalene Thomas' collaborative photography at Aperture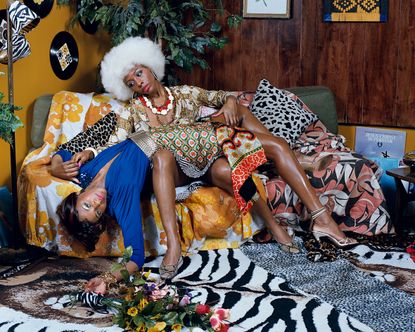 (Image credit: Mickalene Thomas Photography)
Even though the outcome of Mickalene Thomas' artistic practice tends to be large-scale paintings encrusted with rhinestones, along the way she is known to take photographs of her subjects as part of that process. Those photographs are now the subject of 'Muse: Mickalene Thomas Photography and tête-à-tête', a two-part exhibition at New York's Aperture Foundation.

The show reinterprets themes that Thomas has been exploring throughout her career. Two years ago, for example, at Lehmann Maupin, the gallery that represents her, Thomas showed 'Tête de Femme', a body of work that saw the artist represent the female form through brightly coloured painting and mixed-media collage.

Now, with 'Muse', she has developed a new installation called tête-a-tête, which picks up on that theme, but does so through photography, pairing her creations with work from photographers who have inspired her, such as Carrie Mae Weems, Renée Cox, and Deana Lawson.

This provides a resonance between artists addressing a similar theme. 'Collaboration isn't just about two people or a group of people making a single object,' Thomas says, during a walk-through of the exhibition, suggesting that collaboration can be just as much about the process itself than about a single outcome. 'It's also about the spaces and conversations you have. Can you bring that to the forefront?'

Thomas builds elaborate sets to serve as backdrops for her paintings and photographs. One of those is included in the exhibition, allowing visitors to see both the backdrop and some of the photographs set there.

Her preparation for the exhibition itself seems to have provoked something of a mid-career reevaluation. She now considers her photography an end unto itself. 'I always considered the photographs secondary, but now I consider them primary,' she says. 'They were speaking about notions of beauty that my paintings weren't.'

Referring to the process of putting together the exhibition, she adds, 'it shifted from it being a resource to my paintings to it being their own bodies of work'.

On view until March 17, the exhibition will travel to other venues after it closes in New York. An accompanying book, Muse: Mickalene Thomas Photographs, compiles the work in a single volume.
INFORMATION
'Muse: Mickalene Thomas Photography and tête-à-tête' is on view until 17 March. For more details, please visit the Aperture Foundation's website

Photography courtesy the artist, Lehmann Maupin, New York and Hong Kong, and Artists Rights Society (ARS), New York
ADDRESS
Aperture Foundation
547 West 27th Street
4th Floor
New York City