Monumental MashUp: Vancouver Art Gallery launches its largest ever exhibition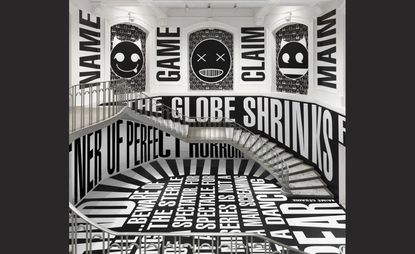 (Image credit: Barbara Kruger)
How to convey the experience of an exhibition that takes up all four floors of the Vancouver Art Gallery, includes 156 artists and spans the breadth of Pablo Picasso to Afrika Bambatta? In a word, it's dizzying.

But there's also something rather thrilling about the three years in the making aptly named Mash Up – the VAG's biggest show to date - that currently has Terminal City in a tizzy. (The queue on opening night last week stretched over two city blocks).

Looking at collage, remix, found object art as well as cultural 'borrowing' over the past century, each floor has a theme, ranging from early Twentieth century at the top to current day on the bottom. Descending in chronological order makes most sense, but mixing it up floor-by-floor is truer to the exhibition's essence. Tellingly, in a sympathetic gestalt, even the official VAG art map mislabelled two floors – switching late 20th century and post-war eras.

But this may be the curatorial intent. One leaves the exhibition which begins with Victorian collage and ends with a Valerie Blass hybrid sculptural creature – part ancient Egyptian, part animal, part pop art –– with synapses swirling with unexpected connections and observations.

The exhibition is as much audio as visual. An intriguing aspect of the top floor early 20th century section juxtaposes the first sound poems of Kurt Schwitters with an 80's homage by Brian Eno. Early industrial noise music by Luigi Russolo somehow recalls the 80's industrial band Einstürzende Neubauten. And an entire room dedicated to the Eno/David Byrne 1981 collaboration My Life in the Bush of Ghosts mixes film, objects like the 1954 book of the same name by Amos Tutuola and tracks like Qu'ran that samples Algerian recitations, with curatorial notes about the dangers of neo-imperialist borrowing.

With such a rich vein to mine – one that includes architectural hybrids like the Frank Gehry residence in Santa Monica and Bjarke Ingels' power station with ski slope – encountering classics like Warhol's Marilyn series proves unexpectedly banal. But 'Mash Up' also functions as a kind of generational Rorschach test and beauty is definitely in the eye of the beholder. That said, a highlight was the section on 'creative salvage' featuring early 90's found object furniture by Tom Dixon and deconstructed fashion design by Martin Margiela.

In an age when 'cultural borrowing', copyright and creativity often butt heads, Mash Up serves some delicious food for thought.
INFORMATION
'MashUp: The Birth of Modern Culture' is on view until 12 June. For more information, visit Vancouver Art Gallery's website
ADDRESS
Vancouver Art Gallery
750 Hornby Street
Vancouver, BC V6Z 2H7