Stan Douglas in Venice: a hypnotic chronicle of youth, revolt and liberation
Stan Douglas' captivating two-part exhibition for the Canada Pavilion in Venice is a haunting and meticulous reconstruction of historical events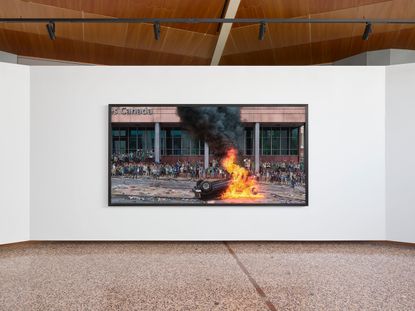 (Image credit: Jack Hems)
Stan Douglas' '2011 ≠ 1848' at the 59th Venice Biennale is a tale of two years and four global events. It's also a tale of two exhibitions, which marks a first in Canada Pavilion history.
'When the director of the National Gallery [of Canada, Sasha Suda] called me, I knew immediately what they wanted to do,' he tells me via Zoom from his Los Angeles apartment ahead of his Venice opening. 'She wasn't expecting me to have an idea so quickly, so I didn't tell her then; I told her I'd figure it out!'
The idea in question stemmed from a 2017 two-part series (Pembury Estate and Mare Street) that Douglas created in response to London's 2011 Hackney riots, which began after a local man, Mark Duggan, was shot dead by Metropolitan Police, and spread nationwide in an uprising underpinned by racial and class tensions, mass-unemployment and post-recession economic decline.
In these vast, aerial mise-en-scènes, the artist combined news footage of the London events with newly created imagery. He sought out parallels between the global uprisings of the early 2010s – including the Arab Spring and riots in the artist's hometown of Vancouver – but the project was shelved due to difficulties with obtaining news footage. '2011 ≠ 1848', curated by Reid Shier, is the culmination of this ambitious project. 'As [the Venice Biennale] was supposed to be in 2021, which would have been the 10th anniversary of 2011, I thought, "OK, I'll do this,"' he says.
Comparing, contrasting and reworking has become something of a signature for Douglas. One of Canada's most celebrated contemporary artists, with a practice spanning film, photography, music and theatre, he has long stunned audiences with his razor-sharp dissection of pivotal historical moments, and his ability to excavate nuance to jarring effect.
The first part of '2011 ≠ 1848' unfolds in Canada's Giardini pavilion. Four large-scale images span four 2011 events, each painstakingly re-enacted by the artist: the emergence of the Arab Spring along Avenue Habib Bourguiba in Tunis; the aftermath of the Stanley Cup riot in Vancouver; youths and police colliding in Hackney during the London riots; and the kettling of Occupy Wall Street protesters on New York's Brooklyn Bridge.
As its title suggests, '2011 ≠ 1848' compares and contrasts the events of 2011 with those in 1848, a year in which middle and working classes across Europe rose up against a lack of democratic liberty, against press restrictions, and the hegemony of the elite. 'It brings [the two] dates into a conversation that you wouldn't otherwise imagine.'
In the title, Douglas makes use of the unequal sign to illustrate distinctions between the events of each year. 'It was a stage for nationalist movements as well as democratic reform in the 19th century, whereas, in 2011, it became a police operation.'
At the heart of the project is how generational differences in the dissemination of information can influence the course of a revolt. In 1848, ideas spread throughout the continent through print media; in 2011, activism went global and viral via electronic means, most notably in the Arab Spring, when gatherings were famously coordinated via social media. But as the artist notes, wider reach doesn't necessarily amount to a greater sense of unity, particularly in relation to the London riots 'There [was] no general voice, programme, [or] party, it [was] person-to-person communications. It didn't have the same unifying effect. It made the body appear, the mass appear, the protest appear, but it didn't have the same effect of coalescing into nationhood, or political action.'
The results of these works expand far beyond photography or reportage. They are intricate tapestries of angst, frustration and disenfranchisement with social systems, spanning eras, geographies, and dimensions. Though anchored in the past, the resonance with recent contemporary events is uncanny.
In a variation on a theme, The Magazzini del Sale No. 5, a former salt warehouse dating back to the 16th century, sets the stage for a captivating audiovisual work that forms the off-site part of Douglas' exhibition. Better experienced than described, ISDN is a two-channel video installation that explores music as a form of cross-continental cultural resistance. It focuses on two genres: grime music surfaced in London in the mid-2000s, at the same time as mahraganat (Arabic for 'festivals') music emerged in Cairo. Though grime has its roots in dubstep and mahraganat in sha'abi, the two share a similar timbre (producers often make use of the same free software and sampling), and by 2011, each had emerged as a soundtrack to youthful revolt in its own right. ISDN is an account of music as a social and political revolt, fictionalised but rooted in fact.
Douglas is no stranger to harnessing the power of music as a vehicle for ideas. The medium has been stitched into the fabric of his films since the early 1990s, from his musings on free jazz in Hors-champs, 1992, to the Afrobeat-infused jazz-funk in the epic jam session Luanda-Kinshasa, 2013, and his career-long admiration for Miles Davis.
On entering the space, we see both screens simultaneously. In the centre, we are sandwiched between the two, caught in a rhythmic, mesmerising game of call and response between two pairs of lyricists: TrueMendous and Lady Sanity in London, and Raptor and Youssef Joker in Cairo. Douglas has feigned an exchange and rapport as the two raps alternate in improvised recording studios decked with scavenged recording and mixing equipment. When one pair begins rapping, the other dances and listens, seemingly in response.
Both grime and mahraganat 'take hip-hop as their model and incorporate local traditions', says Douglas. There's a sense, which goes back to hip-hop or rap itself, [that] if someone from a disenfranchised community comes on stage and says "I'm important", it's a political act.'
As the rappers hypnotically pound to and fro through the zesty 140 BPM, charting the micro and macro frustrations of daily life and encounters with authorities, we're reminded of the distinct socio-political contexts that set these worlds apart but also align them. Despite mahraganat's widespread popularity, the genre is officially banned in Egypt, meaning political references are veiled – the act of performing itself a subversion. The UK, though comparatively libertarian in its views on freedom of expression, has a turbulent history with grime, involving run-ins with authorities, charges of inciting violence, and accusations of racial discrimination.
How does Douglas hope audiences will respond to a work that carries so much cultural heft? 'It's getting a sense of what this universe sounds like. It's pleasurable,' he says. 'You go in there and recognise something, and that thing is made different by what's with it. It's kind of like a musical Kuleshov effect. Only instead of happening over time, it happens over harmony; simultaneously instead of sequentially.'
Stan Douglas' work in Venice – meticulously researched and forensically constructed – is both an illusion and a hyperreality. Its impact lies in niche moments of flux, empathy and tension. In this palpable and audible embodiment of hindsight, we come to believe in what we see and hear.
INFORMATION
Stan Douglas: '2011 ≠ 1848' is commissioned by the National Gallery of Canada, and presented in partnership with the Canada Council for the Arts and the National Gallery of Canada Foundation. gallery.ca
The 59th Venice Biennale will run until 27 November 2022. labiennale.org
Receive our daily digest of inspiration, escapism and design stories from around the world direct to your inbox
Harriet Lloyd-Smith was the Arts Editor of Wallpaper*, responsible for the art pages across digital and print, including profiles, exhibition reviews, and contemporary art collaborations. She started at Wallpaper* in 2017 and has written for leading contemporary art publications, auction houses and arts charities, and lectured on review writing and art journalism. When she's not writing about art, she's making her own.