Artist Marguerite Humeau's recipe for white truffle ravioli
Make a splash with Marguerite Humeau's recipe for white truffle ravioli, as featured in our monthly Artist's Palate series, a Wallpaper* homage to our favourite contemporary art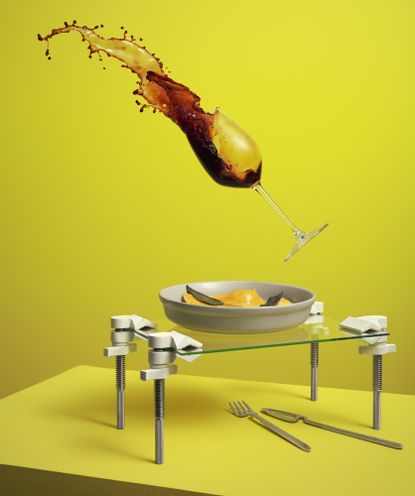 (Image credit: Gustav Almestål)
The high-concept installations of Marguerite Humeau intertwine myth and modernity. Drawing on the work of palaeontologists, anthropologists, linguists and more, she conjures up alternate universes: her breakthrough exhibition, 'FOXP2' at the Palais de Tokyo in 2015, imagined elephants, rather than humans, possessing the gene linked to the development of vocal cords, and thus becoming the dominant species; while her 2018 show 'Ecstasies', at the New Museum, reenacted a speculated scene from 150,000 years ago, when early female humans first encountered psychoactive ingredients.
She selected white truffle ravioli for our Artist's Palate series to coincide with the installation of a new sculpture at the Sandretto Re Rebaudengo Sculpture Park in Guarene, Italy, Rise, which reenacts the first cross-pollination between a male and female grapevine plant. The accompanying explanation is characteristically Humeau: 'White truffles' ripening, harvest, entire cycle of life is connected to the moon – the best time to find them is during the crescent moon of October, approximately from the first quarter onwards. Sage is an ancient herb that symbolises immortality [...] it has also been traditionally used to repulse evil spirits – we need sage more than ever right now!'
Pair the dish with a glass of biodynamic wine, made in accordance with moon phases, and you have a meal that is laden with both flavour and meaning: 'an attempt to connect ourselves to the cosmos, and rethink about our place in the universe and the ecosystems in which we evolve', says the artist.
Marguerite Humeau's recipe for white truffle ravioli
For the ravioli
300g pasta flour
3 eggs, plus 1 extra egg for sealing the pasta
1 tbsp olive oil
For the filling
½ cup grated Parmesan
½ cup grated mozzarella
½ cup ricotta
1 tsp white truffle oil
For the sage butter
Butter
Sage leaves, cut into strips
Grated parmesan
Method
Place the flour, eggs and olive oil in a food processor and pulse until combined. Knead to form a smooth dough, then wrap in clingfilm and place in the fridge for 30 minutes. Mix all the filling ingredients in a bowl. Beat the extra egg in a bowl. Roll your pasta out in a pasta machine until you have two thin, long strips that are about 3in wide. Place one strip on a lightly floured work surface and brush with the beaten egg. Place a teaspoon of the filling, about 2.5in apart, all along the pasta strip, then place the other pasta strip on top, stretching the dough over the filling to join the pasta strip on the bottom and pressing gently around each ball to push out all the air and seal it tightly, then cut into individual ravioli with a pastry cutter and set aside while you make the sage butter. Melt some butter in a pan on a medium heat, then cook the sage for about 10 minutes until it is crispy and the butter is slightly browned. Cook the ravioli in salted boiling water for 2-3 minutes, until the pasta is just cooked, then drain well. Serve the ravioli sprinkled with grated parmesan and sage leaves.
INFORMATION
parcoarte.fsrr.org (opens in new tab)
TF has been editor of Wallpaper* since December 2020. He is responsible for our monthly print magazine, planning, commissioning, editing and writing long-lead content across all our content pillars. He also plays a leading role in multi-channel editorial franchises, such as our annual Design Awards, Guest Editor takeovers and Next Generation series. He aims to create world-class, visually-driven content while championing diversity, international representation and social impact. TF joined Wallpaper* as an intern in January 2013, and served as its commissioning editor from 2017-20, winning a 30 under 30 New Talent Award from the Professional Publishers' Association. Born and raised in Hong Kong, he holds an undergraduate degree in history from Princeton University.
With contributions from