Magnum photographer Alex Majoli's new book captures the theatre of life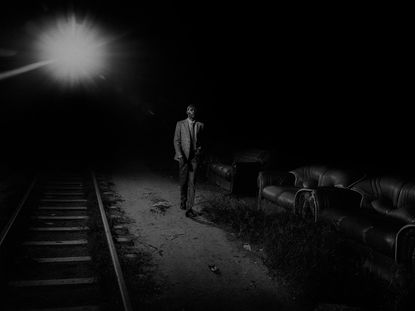 (Image credit: Alex Majoli)
In a departure from the photojournalistic desire to capture unadulterated reality (an arguably impossible task), Magnum photographer Alex Majoli has leaned into the theatre of life for Scene, his new book published by Mack. Scenes of political protest and humanitarian crisis across the globe, alongside quiet everyday moments, show individuals playing their role, acting their part given to them through history and circumstance. In this strange climate of conflicting truths, events in Europe, Asia, South America and Africa are depicted with tenebrious light that suggests the line between theatre and reality is finer than we might like to think.

This understanding of theatre is central to Maloji's process: each image he creates begins with him and his assistants arranging lights as if they're building a set. There's a pause of a minute or perhaps hours or more, a waiting of the show to start, then with no direction given to those in frame he begins to shoot. David Campany explains in the accompanying essay in the book: 'If the world is expecting to be photographed, it exists in a perpetual state of potential theatre.' Whether it is on CCTV, a smartphone camera, or with Majoli's flash.
RELATED STORY
However, we must not assume that this theatrical approach, with its intervention of flashes far brighter than daylight, detaches Scene from reality. Instead it raises important questions regarding the tensions between art and documentary. Does throwing a sunlit scene into apparent moonlight with a flash remove its authenticity? Perhaps approved photographic acts of framing and timing are just as significant influencers of representation. Does the act of a team setting up lights influence the actions of those within the scene? Perhaps not when we understand our whole lives are lived as performance, when there is a potential to be recorded at any moment.

Photographs from Scene will go on show in a corresponding solo exhibition at Le Bal in Paris, opening to the public on 22 February.
INFORMATION
Scene, £30, published by MACK. The exhibition 'Alex Majoli: Scene' is on view from 22 February – 28 April at Le Bal, Paris. For more information visit the gallery website and the Magnum Photos website
Sophie is currently Photography Editor at Wallpaper*. Sophie joined the team following the completion of her photography degree in 2018, and works with Photography Director Holly Hay, where she shoots, commissions, produces, and writes on photography. Alongside this, she continues her art practice as a photographer, for which she was recently nominated for the Foam Paul Huf Award. And in recognition of her work to date, Sophie was nominated by the British Journal of Photography for the Futures photography platform in 2021.