Wallpaper* meets globetrotting Magnum photographer Alex Majoli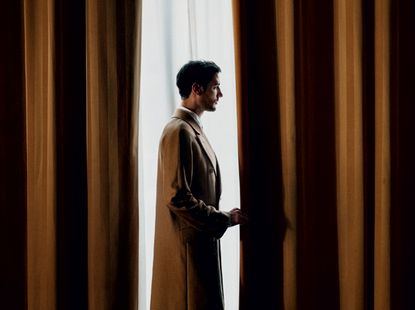 (Image credit: Alex Majoli)
Magnum photographer Alex Majoli travels the world documenting conflicts and wars for the likes of Newsweek and the New York Times magazine. He's captured historical world events such as the fall of the Taliban regime in Afghanistan, the invasion of Iraq, and the 2011 uprising in Eypt – where scores of Egyptians took to the streets demanding the resignation of President Hosni Mubarak after a 30-year rule.

So what compelled him to focus his lens on the men of Milan for our September issue street fashion story, 'Shadow Lands'?. We speak to the award-winning Italian lensman about his work...
Wallpaper*: With war photography and photojournalism, you're responding to things around you, searching for that 'definitive' moment – a complete contrast to a fashion shoot. How challenging or interesting was this for you?
Alex Majoli: What I found very interesting is the collaborative aspect of this experience. I usually have a fixer and maybe a colleague during my 'photojournalistic' journeys. It's the creative process that thrilled me most, and at the end when we were at dinner, I discovered aspects of personalities that were very close to me. Also, my photography started when I was studying at an art institute, so imagery is always imaginary, no matter what the source.

W*: A theme running through some of your portraiture, as well as your Wallpaper* shoot, seems to be people emerging from darkness. Is there a particular influence or meaning behind this?
AM: Yes of course. There is an aesthetic aspect of those pictures that comes from my Byzantine background; I'm also inspired by the paintings of Caravaggio and Giovanni Baglione, and movies like La Jetée, or the films of Michelangelo Antonioni. Then there is a conceptual side that stems from literature – like Pirandello and Artaud, among many others.

W*: What prompted you to work on a fashion story?
AM: I usually get excited by anything new. In this particular case I was very impressed by the 'mood sheet' that was sent to me. The editor and the stylist must have a clear idea of what they want, in order for us to create the rest. This happened to be the case [with Shadow Lands].

W*: Are you interested in fashion?
AM: I would lie if I said no. I grew up in my mother's tailor shop and my wife Daria used to work with fashion photographers Inez van Lamsweerde & Vinoodh Matadin.
RELATED STORY
W*: What was the narrative running through the Wallpaper* shoot that you wanted to convey?
It doesn't just belong to me, but emerged out of the working process with Isabelle Kountoure [W* fashion director] and David [St John-James, stylist]. We liked the idea of working with street-cast models – real Italians. We liked the idea of theatre, play, repetition, gentleness, noir. At a certain point we were scouting old abandoned villas and old vintage movie theatres.

W*: Did you approach this shoot in a different way to your other projects?
AM: I never really prepare anything, but I let the things happen and react accordingly, so, no. I approached this project in the same way as any other. The main difference, as I said before, is the production aspect that makes the shooting process a lot easier.

W*: Your lens has captured defining events and conflict for many of the world's press. When and why did you first have the drive to enter photojournalism and document wars?
AM: It is complicated to explain all this. I can say that one of my masters was a photojournalist and his experience influenced my imagination – I liked the idea of walking the streets and taking pictures. From there I felt attracted to all those situations where a human being is at the 'edge', when there is no time to think and grey areas disappear.

W*: How do you differentiate between shooting in colour and shooting in black and white?
AM: Photographing in colour is very difficult for me, so I look at colours as patterns more than part of reality. I look at colours as I would look at a Baroque painting.

W*: What or who has been the biggest influence on your work?
AM: The Italian filmmakers.

W*: What other projects are you currently working on?
AM: The endless work in progress! For a while I've been working on a book project about Brazil, provisionally called 'Requiem in Samba', and also another that has no title yet, about the Albanians. I'm also still working on the idea of capturing the real life as a 'playing stage'.
Receive our daily digest of inspiration, escapism and design stories from around the world direct to your inbox