London's Barbican celebrates Duchamp with 'The Bride and the Bachelors'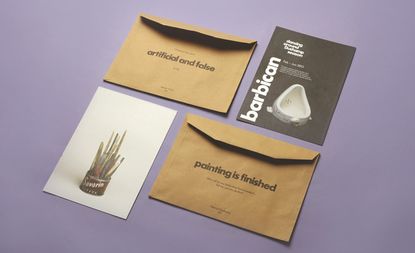 (Image credit: press)
London's Barbican Art Centre (opens in new tab) is getting seriously Duchampian this year - if that isn't a contradiction in terms - with five months of cultural happenings under the banner 'Dancing around Duchamp (opens in new tab)'.

The season of events includes theatre, music and dance performances as well as film screenings but its centre piece is the exhibition 'The Bride and the Bachelors: Duchamp with Cage, Cunningham, Rauschenberg and Johns (opens in new tab)'. And it's a show we've been looking forward to since the invitations arrived in envelopes printed with punchy epigrams from Duchamp and Johns.

A hundred years on from the presentation of his Nude Descending a Staircase (No. 2) at New York's Armory show (opens in new tab), the Barbican exhibition looks at Marcel Duchamp's transformative impact on American art, or rather the American arts, and this quartet of acolytes in particular.

Arriving at the Barbican after a triumphant turn at the Philadelphia Museum of Art (opens in new tab), the show features twenty-five works by Duchamp, over thirty by Robert Rauschenberg (opens in new tab) and Jasper Johns (opens in new tab), as well as music by John Cage (opens in new tab) (and Duchamp) and performances of Merce Cunningham (opens in new tab)'s choreography.

In turn, the artist Philippe Parreno (opens in new tab) has been charged with the mise-en-scene, choreographing the various elements of the show and mapping the complex influences and counter-influences, the cross-media collaborations, the ping-ponging references and the happy accidents, both in and behind the works.

We spoke to him briefly during the media view of show and, before charging off to fix a lighting snafu, he acknowledged the difficulty of bringing the show from the galleries of Philadelphia's vast neo-classical hulk to the tight two floors of the Barbican space. But he has pulled it off.

The short dance performances become a homing device and point of departure. You start the show with Duchamp's cubist nude and then quickly to a replica of 'The Bride Stripped Bare by Her Bachelors, Even' (or The Large Glass if you prefer, as most do) and replicas of his two best known 'readymades', 'Bicycle Wheel' and 'Fountain'. And watching the stuttering elegance of Cunningham's routines, with Cage's elegant compositions in the background, immediately alerts you to how connections have been made.

This makes sense because it was Cage and Cunningham, his partner in work and life, who pulled Rauschenberg and Johns into their orbit and began their collective exploration of Duchampian logic and illogic. 'Duchamp made it possible for us to live as we do,' Cage said. For Johns, Duchamp 'changed the condition of being here'. The Merce Cunningham Dance Company was their collaborative space, Cage composing music and Rauschenberg and John's both serving long stints as 'artistic advisors'.

On the upper floor, works are grouped thematically, including a section on Duchamp's passion for chess. And while it demonstrates how much Cage et al looked to Duchamp for inspiration, it's also clear that Duchamp's reputation wouldn't be what it is if not for these disciples' dedication to the cause.
ADDRESS
Barbican Centre
Silk Street
London EC2Y 8DS
View Google Maps (opens in new tab)
TELEPHONE
44.207 638 88 91