Ranjani Shettar's site-specific sculptures unveiled in Barbican Conservatory
Ranjani Shettar's 'Cloud songs on the horizon' suspends sculptures amid the Barbican Conservatory's plant life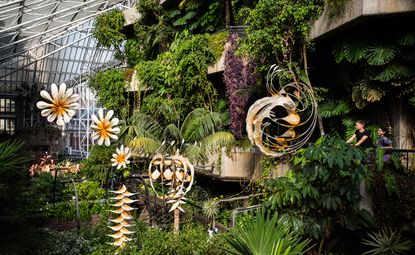 (Image credit: Barbican Conservatory 2023)
Wallpaper* Newsletter
Receive our daily digest of inspiration, escapism and design stories from around the world direct to your inbox
Thank you for signing up to Wallpaper. You will receive a verification email shortly.
There was a problem. Please refresh the page and try again.
In the heart of London, the Barbican Centre's Conservatory – a 1980s brutalist oasis filled with tropical plants – is hosting an immersive and site-specific exhibition from Indian artist Ranjani Shettar. The striking space, resembling a film set, boasts luscious greenery spilling over concrete balconies and labyrinthine pathways. Shettar's exhibition, 'Cloud songs on the horizon' (10 September – 31 December 2023), adds five suspended sculptures to the Conservatory, drawing on the influence of nature and craft.
Shettar, who grew up in Bengaluru but now lives and works in a remote village 400km from the city, has made a name for herself through intriguing, abstracted and often biomorphic sculptures that employ natural and manmade materials including beeswax and steel, drawing on traditional craft techniques.
Her works are often inspired by nature – 'it can be the littlest things, even a shrivelled flower', she says of her influences – but in layered and complex ways. 'I take elements from nature, but they're not direct. I'm more of an abstractionist.'
'Cloud songs on the horizon' was commissioned by Shanay Jhaveri, the Barbican's head of Visual Arts, with whom Shettar worked previously on a solo show at The Metropolitan Museum of Art in New York in 2018. The free-to-visit Barbican exhibition is the first in a series of site-specific commissions Jhaveri has envisioned as a way to connect contemporary art more responsively to the unique setting of the centre, designed by Chamberlin, Powell and Bon in the brutalist architecture style (a book, Building Utopia: The Barbican Centre, marked its 40th anniversary in 2022).
Shettar describes experiencing the Conservatory for the first time following the commission: 'It was totally unexpected for me. It just felt like an urban oasis – it's beautiful.'
She was initially 'a little daunted' by making works for the 2,137 sq m space. 'But when I spent more time with it, it felt like there are little pockets, almost like little galleries, that I could use and create a journey for the audience,' she says. This sense of bringing visitors on a journey to discover various artworks in different settings across the Conservatory is key to her vision.
The scale wasn't Shettar's only challenge: her works typically rely on precise lighting and shadows, which was impossible in a daylit room packed with dense natural foliage. 'Making an artwork for a green space is so different to showing in a white cube,' she says. 'It's a very new environment to be showing my work in.'
The exhibition's five projects vary in size, and use materials including muslin, stainless steel, and teak. Shettar describes the works as having 'multiple perspectives'. She hopes they will encourage visitors to dwell, pause and think – and even come away feeling optimistic. 'I'm trying to do something that's projecting hope and joy," she says.
'Cloud songs on the horizon' is at the Barbican, London, 10 September to 31 December 2023
Receive our daily digest of inspiration, escapism and design stories from around the world direct to your inbox