Shilpa Gupta at the Barbican: social injustice, censorship and poetry
In the multipart show 'Sun at Night' at London's Barbican, Mumbai-based artist Shilpa Gupta highlights the fragility of free expression and gives a voice to those silenced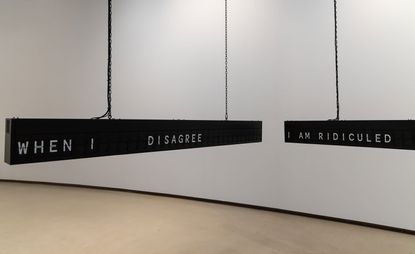 (Image credit: © Tim Whitby / Getty Images)
The words of Azerbaijani poet Mikayil Mushfig (1908 – 1938), labelled an enemy of the state by the Soviets, hover in the air. From a canopy of 100 low-hung microphones, a chorus clusters and repeats the poet's statement. There is heavy breathing. Hums dissolve into whispers. Fingers click and hands furiously clap. An unpredictable rhapsody of disembodied voices darts around a dimly lit room, creating a dense fog of sounds that lingers over a field of metal spikes.
Once your senses adjust, you can edge through these spines that comprise Shilpa Gupta's sound installation, For, In Your Tongue, I Cannot Fit (2017 – 2018). Rising up to waist height, the spears forge a constricted path. Each pierces a leaf of paper bearing fragments of the spoken verses, written by a poet incarcerated for their beliefs. It is a panoply of resistance spanning time and place, with the words of dissident writers such as Maung Saungkha from Myanmar, arrested in 2016 for his risqué claim that he had a tattoo of the president inked on his penis, melding with those of Ayat al-Qurmezi, jailed in 2011 for supposedly defaming Bahrain's royalty.
The enveloping piece is part of Gupta's poignant exhibition 'Sun at Night' at the Barbican Curve. In a year when the Nobel Peace Prize has been awarded to two journalists, Maria Ressa of the Philippines and Dmitry Muratov of Russia, for their courageous advocacy and practice of press freedom, and when digital censorship is alarmingly on the rise, the show is a testament to the force of words and the fragility of our commitment to free speech.
RELATED STORY
From Gavin Bond's archival photo series 'Being There'
Gupta, however, finds a refreshingly subtle way of rallying for free expression while keeping those poets at the fore. She treats their words preciously. She has 'preserved' the verses of censored poems by speaking them into a collection of ostensibly empty medicine bottles that form the piece Untitled (Spoken Poem in a Bottle).
The thresholds of expression have long preoccupied Gupta. She once built a library of stainless steel books, each a replica of a title written anonymously or pseudonymously. And on the spine she explained the reasons why, capturing a range of society's neuroses and prejudices. Gupta's practice is characterised by its delicate investigation of social injustices and finding pathways to empathy. As she tells me, the objective of her work is 'speaking with you and not at you and not against you. It maybe has to do with a sense of hope that a conversation might mean something.'
Come November 2021, Gupta will continue this dialogue with her first solo show at London's Frith Street Gallery. 'There will be spillover from the Barbican show,' she explains, drawing a link between the genre of isolation that has been enforced throughout the world this last year. She has created a new flap-board – the kind typically associated with airport and train arrivals – that flickers through letters and settles to find our connective tissue. It spells out 'We are closer than you ever imagined'
INFORMATION
Shilpa Gupta: 'Sun at Night', until 6 February 2022, The Curve, Barbican Centre, barbican.org.uk