Juergen Teller captures football fans as World Cup frenzy reaches fever pitch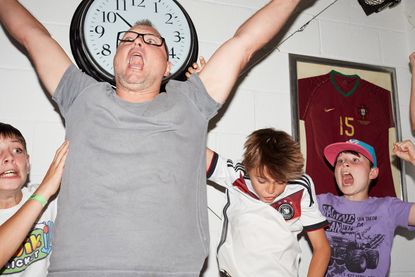 (Image credit: © Juergen Teller)
Juergen Teller's new exhibition 'Zittern auf dem Sofa', which recently launched in Moscow to coincide with the 2018 FIFA World Cup, translates as 'trembling on the sofa'. For those who don't genuflect to the God of football, Teller's title might seem a little over the top. How could men kicking a ball insight such an overwhelming physical response? Can football really make you tremble?

Well, for many of the estimated four billion people who will regularly watch the World Cup over the next six weeks, Teller's new photography series will make perfect, relatable sense. It's difficult to express how deeply a football fan emotionally invests in their team – the frustration-laced anguish of a loss, the utopia of an unlikely win, the broken rollercoaster ride en route.

At Moscow's Garage Museum of Contemporary Art, the iconic German photographer will present a series of video portraits – of himself, his children, his friends and his family – as they put themselves through the 'anguish' of watching the German national team perform on television. He should count himself lucky he isn't English.
Teller started filming himself after Germany lost Brazil at the 2002 World Cup Finals – a result that was revenged, historically, in the 7-1 semi-final defeat in 2014. On reviewing the images, Teller noticed how totally invested he was – and often, therefore, how ridiculous he often looked – while watching the game.

The museum's chief curator Kate Fowle describes the exhibition as 'the best piece he has ever come up with'. Teller has used the gallery space to set up seven screens – the number of games Germany will play if they're fortuitous enough to make it to the final. Each screen will relay footage of Teller and his family and friends as they watch each game. If the team get eliminated early (here's hoping), the remaining screens will be scrambled as though the tournament no longer exists.

Photographing football has become something of a commercial artform, from the high-tech devices that surround a high profile game to the endless corporate portraits of the game's global stars as they flog their athleisure, moisturiser and headphones. Throughout his career, Teller has done something different.

Two of his dozens of photobooks are dedicated to the sport – Naked on the Football Field (2004) and Siegerflieger (2014). But each project finds a way to express how football can climb into the emotional life of its most voracious followers – the way it becomes an extension of our personality, our character, a way of connecting to loved ones, to strangers, to our national identity at large.
More than that, both series, in their own way, use football as a launching point towards something far more uncomfortable and confessional. In one image, Teller is stood in the nude near his father's grave. He's smoking, drinking, and balancing on a football. It's an homage, he says, to his hard father, who hated football and whom committed suicide in 1988. 'I think I took the photograph to feel closer to him,' Teller once said in an interview. 'To try to understand the things we had in common, and the things that kept us apart. Football was certainly one of those things that kept us apart.'

However far Germany progress this summer, it seems Teller has used football in a very different way – to bring his family together. And that really, is the point of the whole exercise – even if those most of those screens in Moscow will remain scrambled by tournament's end.
INFORMATION
'Zittern auf dem Sofa', until 19 August, Garage Museum of Contemporary Art. garagemca.org (opens in new tab)
ADDRESS
Garage Museum of Contemporary Art
Krimsky Val
9 строение 32
Moscow
VIEW GOOGLE MAPS (opens in new tab)