John Baldessari at Tate Modern and Sprüth Magers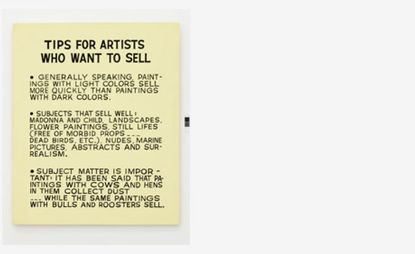 (Image credit: John Baldessari)
Burning one's work would to most people signal the end. But when John Baldessari burnt the majority of his existing artwork on 24th July 1970, an act he called 'The Cremation Project', it was very much a beginning; from the ashes rose the start of the Conceptual art movement.
See more of Baldessari's work from both shows
It's hard in today's art scene to imagine a time before conceptual art and fitting that as Frieze descends over London (where it's difficult to find a piece that doesn't put concept first) Baldessari is having a retrospective at Tate Modern. The 14 rooms provide a chronological journey, showing how Conceptual art developed from humble, if radical, origins into what we know today through the work of one man who has been at the centre of the movement all along.
Baldessari himself describes the continuing thread of his approach as an attempt 'to look between things instead of at things' and this makes a lot of sense in the context of his retrospective. From early works like 'Tips for Artists Who Want to Sell', which delivers exactly what its title says, to the final room where his 2009 'Brain/Cloud' is installed (the same object becomes either cloud or brain depending on its backdrop) – the overriding mission in his work is to get us to look at life differently.
The way in which he does this is to re-appropriate the everyday – be it words, phrases, colours, objects, photographs or moving images – and present them in such a way as to confound both established uses and expectations. New presentations take on new meanings and, in turn, force us to question the significance and possibility of the mundane.
In much of his work there's a mischievous, subversive sense of humour: he sings Sol LeWitt's 35 sentences on Conceptual art one by one to a different tune; he pitches a found photo of a woman next to 16 very different adjectives describing her open-mouthed expression; he erases faces and sections of photographs with block colours, disrupting the narrative and forcing the viewer to study what's happening elsewhere and what might fill the void.
What one's left with after the 14 rooms isn't just a sense of how widespread Baldessari's influence has been on so many of the best conceptual artists today but equally that so much contemporary conceptual art doesn't come close to achieving the same level of wit, intrigue, imagination and appeal.
His reach isn't just metaphorical either at the moment - across town at Sprüth Magers one of his latest works is also on show. 'Ear Sofa; Nose Sconces with Flowers (In Stage Setting)' is a Hollywood Art Deco style tableau, comprising two sconces in the shape of noses, which frame a sofa in the shape of an ear. A model (very much alive) reclines on the sofa and flounces around the set, complete with a dog, turning the scene into a stage, not merely some physiologically inspired furniture. Continuing his current fascination with noses and ears particularly – the scene plays with notions of distended, alien body parts being 'lived in'.
Receive our daily digest of inspiration, escapism and design stories from around the world direct to your inbox