After shock: New York's Japan Society presents work on the 3/11 tragedy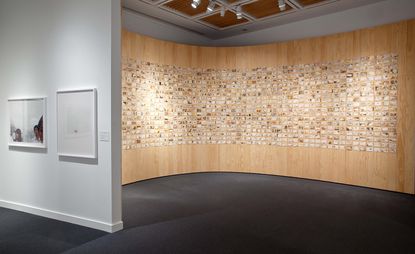 (Image credit: Richard P Goodbody, Inc.)
'In the Wake: Japanese Photographers Respond to 3/11' opens today – Friday, 11 March – at New York's Japan Society, coinciding with the five-year anniversary of the 2011 earthquake, tsunami, and nuclear power plant failure that struck northeast Japan.

The show was originally on view at MFA Boston in 2015 as a response to the disaster being the most widely photographed in history. 'After everyone saw the images all over the media, we felt that photography would be an appropriate first stage of communicating the damage, both seen and unseen,' the museum's senior curator of Japanese art, Anne Nishimura Morse, says.

For its exhibition, Japan Society reorganised the 90 photographs into three sections: straightforward documentation, technical manipulation to convey a visual language, and post-disaster images of Tōhoku, the epicentre of the devastation.

The works grapple with expressing the visible effects of a natural disaster, such as collapsed buildings and abandoned pets, as well as the invisible, such as nuclear contamination and psychological damage. The exhibition opens with Naoya Hatakeyama's richly colored, large-scale photographs of his hometown Rikuzentakata, before and after the tsunami hit.

Other series include Munemasa Takahashi's 'Lost and Found'­ – a collection of 750,000 damaged photographs that Takahashi has attempted to reunite with their owners; and works by Takashi Arai, who made daguerreotypes each day following the disaster and paired them with images of the Hiroshima bombing. The exhibition also features work by Tomoko Yoneda, Keizo Kitajima, Kozo Miyoshi, Lieko Shiga, Yasusuke Ota, Takashi Homma and Ishu Han, among many others (17 in total).

Yoko Ono, who was born and grew up in Tokyo, is installing her acclaimed interactive artwork Wish Tree in the Japan Society's foyer. 'In the Wake' will be on view until 12 June.
INFORMATION
'In the Wake' is on view until 12 June. For more information, visit the Japan Society's website (opens in new tab)
ADDRESS
Japan Society
333 East 47th Street
New York, NY 10017
VIEW GOOGLE MAPS (opens in new tab)