Rhythm of life: Iván Navarro marches to the beat of his own drum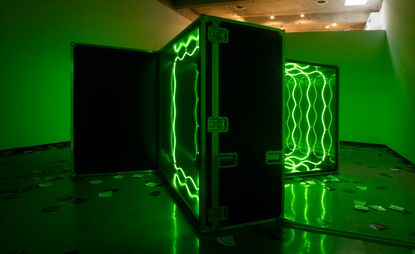 (Image credit: Diego Flores)
Iván Navarro knows the power of perception all too well. The Chilean-born artist often uses neon lights and mirrors to create optical illusions that make the viewer believe that they are staring into an infinite abyss. Navarro's current exhibition, 'Mute Parade' – on view at Paul Kasmin Gallery in New York – continues to use text, light and sound to confront topics like power, migration and propaganda.

Black and white paper squares with the expressions 'read you' and 'loud unclear' litter the gallery floor to provoke visitors into thinking about the disjunction between both visual and auditory modes of communication. Navarro harnesses road cases, which are typically used to store and transport musical instruments, filling them with lights and mirrors to evoke a sense of illuminated wonder.
In the first room, a circular case hangs on the wall, with the phrase 'Believe none of what you hear and only half of what you see spelled out in neon lights on the inside. Across the room, Navarro 'plays' music through his use of light – albeit silently – in a pyramid formed of six drums, embedded with the words 'high', 'tone', 'tune', 'bass', 'mute' and 'deaf' in neon.

In the next gallery two freestanding drums face each other, one with the words 'kickback' and the other with 'knockknockknock' lining their interiors. Navarro installed four square-shaped road cases in the last room, organising them into a cross formation, and making up the Impenetrable Room. Each case is filled with a wavy line of green neon light – meant to represent a sound wave – and mirrors, willing viewers to believe that they are staring into an infinite space.

'Mute Parade' asks a number of different questions. Are we to believe what we see? Do we hear what we read? Navarro successfully manipulates the senses in the exhibition, creating a composition that playfully toys with the idea of synesthesia.
INFORMATION
'Mute Parade' is on view until 23 December. For more information, visit the Paul Kasmin Gallery website (opens in new tab)
ADDRESS
Paul Kasmin Gallery
293 Tenth Avenue
New York, NY 10001
VIEW GOOGLE MAPS (opens in new tab)