Life's a beach: exploring Robert Rauschenberg's Floridian island home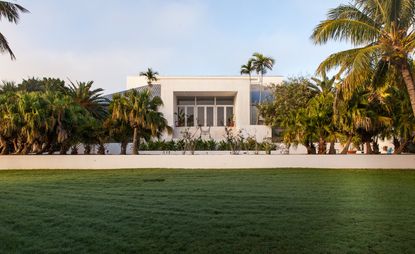 (Image credit: Laurie Lambrecht)
'Every time I've moved, my work has changed radically,' said the artist Robert Rauschenberg, who, after growing tired of living in New York in the 1960s, decided to buy a property in Captiva, Florida. It is easy to see why Rauschenberg – whose posthumous retrospective runs at the Tate Modern until 2 April, before going to MoMA in New York and the de Young in San Francisco – fell in love with Captiva, a tranquil island off of Florida's west coast, lined with beaches along the Gulf of Mexico, and lousy with flora and fauna. Rauschenberg purchased his first property there, a beachfront house, in 1968. It wasn't until two years later that he moved there full-time, setting up a permanent residence and a studio. He stayed in Captiva until his death in 2008.
Take a 360 degree tour of Robert Rauschenberg's home and studio on Captiva island

Staunchly averse to the urban sprawl that began on the island when developers wanted to build vacation resorts, Rauschenberg, who fished daily, would eventually purchase the properties of several of his neighbours. 'He said, "Name your price, you can use it until the day you die, I won't develop your property",' said Matt Hall, a long-time employee of Rauschenberg. The artist would go on to acquire around a dozen or so properties across 20 acres of land.
Rauschenberg's work changed while sequestered in Captiva. It was there that he gathered cardboard boxes to create his Early Egyptian wall sculpture series, which he coated with sand from the beach. Rauschenberg also built a printing shop on his estate, to create screen-prints. Each house is lined with shelves that hold books on art, fashion, architecture, travel, film and more.

Even though it's been eight years since Rauschenberg passed away, the artist's legacy lives on in Captiva. Inspired by his time at Black Mountain College in North Carolina, Rauschenberg made sure that a foundation was created in his name to foster the work of artists and chefs (Rauschenberg was also a staunch foodie). Now, via residencies with the Rauschenberg Foundation, art and food practitioners can experience the place that so inspired Rauschenberg in the final decades of his life.
INFORMATION
For more information, visit the Rauschenberg Foundation website (opens in new tab)