British artist Hilary Lloyd on fusing textile, sound and video in her practice
Ahead of her installation at Loewe's Miami boutique, we speak to the Turner Prize nominee about nightclubs, technology and how they tie into her current exhibition at Sadies Coles HQ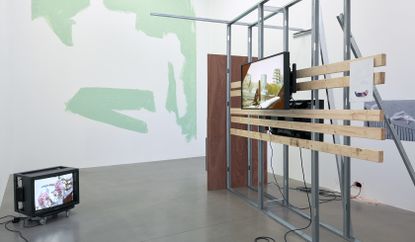 (Image credit: Robert Glowacki)
When she talks about her practice, Hilary Lloyd is always quick to point out that she is 'not a filmmaker'. And yet, video footage always makes its way into her works, shot in her singular style and identifiable for its repetitive movements, jump cuts and sweeps. It's a frenetic rhythm that's been related to the restlessness of the contemporary viewer, who consumes images hard and fast.

Lloyd is, by her own admission, something of a techie when it comes to equipment. Her favourite piece of technology is currently 'the mobile phone' – although she doesn't actually own one. Her latest installation includes scenes from a nightclub in Turin, shot spontaneously on a borrowed iPhone and edited together with choppy cuts. You never quite get a clear image of what you're looking at other than a sense of the atmosphere of the lived moment. 'Earlier this month I was in Turin, installing the first exhibition in Federica Panelli and Annalisa Stabellini's new gallery BAR,' Lloyd tells us. 'The film was made during the opening night and afterwards we went clubbing and the film was shot using Federica's phone, because I don't have one.'
The urban landscape is Lloyd's muse for 'Car Park', her current exhibition at Sadie Coles HQ, and particularly the surroundings of her new studio in Thamesmead. The southeast London locale appears in multiple video works that make up the exhibition, becoming the surprising subject of a series of mural paintings in muted palettes on the gallery walls, reproductions of smaller-scale paintings in pale emulsion. It's the first time the Turner Prize-nominated artist has tried her hand at the medium, 30 years into her career – a sign of her willingness to experiment and keep curious.

Taking time out from installing her exhibition in London before she heads to the US for her next project, Lloyd explains: 'The studio I recently moved to used to have two nightclubs in the building and I've heard that everyone in Thamesmead used to go to them, I think they were hugely popular. I think about them a lot and fantasise about what it would be like if they were still there – I've been working above these spaces and most of all wishing that they were still here so I could go.'
It's perhaps no wonder that Lloyd, who constantly blurs the borders between inside and out, image and abstraction, physical and digital, is interested in an area like Thamesmead. It's on the cusp of the countryside and at the edge of a heaving metropolis where postwar architecture pans out into Southmere Lake.

'Inbetweenness' or perhaps, the interconnectedness between what Lloyd refers to as 'stuff', is a leitmotif that runs through the works: men standing around in the eponymous car park, rats and birds, sights and sounds blend together at a lingering pace. 'I like the way Thamesmead looks and that its homes are built among hills and trees, with wide rolling green open spaces and a boating lake,' she says. 'There's loads of wildlife, including horses, and I love the freedom that this landscape creates for everyone to do whatever they like.'
Meanwhile in Florida, from 3 December and coinciding with Art Basel Miami Beach, Lloyd will transform Loewe's Miami boutique with some of the works from the Thamesmead project. The artist has been tapped for the fifth entry in the Loewe Foundation's 'Chance Encounters' exhibition series. In their American setting they inhabit quite a different context, more strange and exotic than they appear to the local back in London.

The exhibit incorporates prismatic textile works stitched by Lloyd in a technique that's not dissimilar to the way she edits her digital works: both have the same handmade, rough-cut and spontaneous feel. Tailored specifically to the site, as with all of Lloyd's work, the installation demonstrates why the artist is 'perfectly attuned to the contemporary moment and the way in which we engage with the visual world around us', as Loewe creative director Jonathan Anderson notes. Lloyd's films – displayed on monitors – meet the equally rough-and-ready surfaces of large-scale ceramic sculptures by fellow Brit, the late Ewen Henderson.
INFORMATION
'Car Park', until 20 December, Sadie Coles HQ. 'Chance Encounters V', 3 December – 21 January 2020, Loewe Miami. sadiecoles.com (opens in new tab); craftprize.loewe.com (opens in new tab)
Charlotte Jansen is a journalist and the author of two books on photography, Girl on Girl (2017) and Photography Now (2021). She is commissioning editor at Elephant magazine and has written on contemporary art and culture for The Guardian, the Financial Times, ELLE, the British Journal of Photography, Frieze and Artsy. Jansen is also presenter of Dior Talks podcast series, The Female Gaze.