Guerlain's flagship Paris boutique becomes a stage for female art activism
Coinciding with Paris+ par Art Basel, heritage perfume house Guerlain is hosting 'Les Militantes', a multigenerational, international group show of pioneering women artists at its flagship boutique on Avenue des Champs-Élysées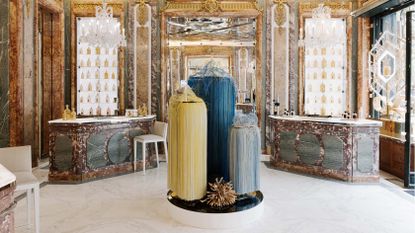 (Image credit: © Pierre Mouton)
Guerlain, France's oldest perfume house, has long enjoyed a fruitful marriage with contemporary art. When Pierre-François-Pascal Guerlain founded the house in 1828, he saw art as the key to setting Guerlain apart in the landscape of skincare, beauty and make-up, and called upon artists, sculptors, and painters to put their stamp on the house's bottles and cases and boutiques.
Decades later, Guerlain's third-generation perfumer, Jacques Guerlain, responsible for now-iconic scent creations like L'Heure Bleue (1912), Mitsouko (1919) and Shalimar (1925), continued this legacy, displaying his impressive collection of French Impressionist paintings including Manet and Monet – then considered emerging artists – in the house's flagship boutique on Avenue des Champs-Élysées.
'It's a long love story between art and Guerlain,' says Ann-Caroline Prazan, director of art, culture and heritage at Guerlain. 'It's important to sometimes forget your marketing lessons and put more emotion into the creation of a new perfume or skincare. It was evident to continue like the family had done in the past and collaborate with artists of my time. It's an adventure for me. I protect the art, but at the same time, we work together to imagine the most beautiful, exceptional piece for the house. Art is in the DNA of Guerlain's history.'
In contemporary times, Guerlain is continuing this 'love story' under the slogan 'Bee Art by Guerlain' (a nod to the bee motif which has symbolised the brand since its inception) with exhibitions at its flagship boutique at 68 Champs-Élysées. 'It's important to communicate our passion, and continue to work with artists', says Prazan. 'We organise collaborations, but we also open the doors of the house to exhibitions twice a year for clients and non-clients to discover art.'
For its 15th exhibition, Guerlain has turned to the theme of women's activism for a group exhibition in Paris titled 'Les Militantes', coinciding with the inaugural edition of Paris+ par Art Basel. Though wide-ranging in age, nationality, media and theme, the 21 featured artists are united by activism – sometimes radical, sometimes subtle, but consistently thought-provoking.
The show doesn't hold back in offering a mirror to the myriad issues that now bind contemporary society. It spotlights artists, who, since the mid-20th century have fearlessly confronted the problems plaguing their times – from racial injustice to gender inequality and the very palpable climate emergency.
Interspersed throughout the opulent, mirror-clad boutique, the show pairs the work of legendary 20th-century titans such as Niki de Saint Phalle, Louise Bourgeois, Kiki Smith and Etel Adnan with leading mid-career artists and emerging talent such as Zanele Muholi, Francesca Pasquali, Thu Van Tran, Min Zhang and Jeanne Vicerial.
'It was important to mix well-known artists like Louise Bourgeois, Nikki Saint Phalle and Kiki Smith with young, emergent artists because Guerlain, at the beginning and in each generation since, has discovered new talent. We want to do the same.'
Among the standout works in the show are Jeanne Susplugas' La Maison malade (1999 – 2022), installed on the lower ground floor of the boutique. A greenhouse erupts with a chaotic array of pharmaceutical packaging, a commentary on the sickness of western society, the excessive consumption of medicine, and our perpetual battle to achieve wellness.
Elsewhere, Eléa-Jeanne Schmitter's potent photography explores how everyday infrastructure and equipment are tailored to fit the average male body, often jeopardising the safety and comfort of women. Fasten (2020), part of the series 40 years 70 kg sees a car seatbelt strapped around the torso of a female, its belt awkwardly constricting her breasts.
Next year, Guerlain will stage a photography exhibition dedicated to the 170th anniversary of Eau de Cologne Impériale, created in 1853 for Eugénie de Montijo, Empress of the French and wife of Napolean III. The show will offer carte blanche to international photographers to interpret the iconic bottle. 'They can do what they want with the bottle. They can break it, turn it - carte blanche! It's dangerous but I like that, it's so exciting. It's important to protect and respect the artists.'
Information
'Les Militantes', is on view at Maison Guerlain, 68 Champs-Élysées, until 14 November 2022. guerlain.com
Receive our daily digest of inspiration, escapism and design stories from around the world direct to your inbox
Harriet Lloyd-Smith was the Arts Editor of Wallpaper*, responsible for the art pages across digital and print, including profiles, exhibition reviews, and contemporary art collaborations. She started at Wallpaper* in 2017 and has written for leading contemporary art publications, auction houses and arts charities, and lectured on review writing and art journalism. When she's not writing about art, she's making her own.