Grayson Perry: The Tomb of the Unknown Craftsman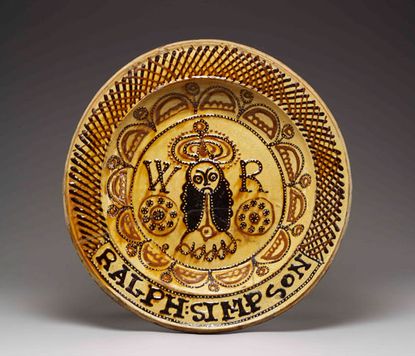 (Image credit: © The Trustees of the British Museum)
The British Museum (opens in new tab) holds a remarkable eight million artefacts in its vaults, which artist Grayson Perry (opens in new tab) has spent the past few months rummaging through for his latest exhibition. The cross-dressing Turner Prize (opens in new tab) winner persuaded the London museum to let him create a new exhibition by choosing objects from its archives and displaying them alongside his own work, which includes pottery, tapestry and a sculptural centrepiece - a rusted iron coffin in the shape of a ship, titled The Tomb of the Unknown Craftsman.
Perry, who recently graced Wallpaper* HQ with his presence for a design discussion for his forthcoming Channel 4 (opens in new tab) programme, likened the experience of curating the exhibition - also called The Tomb of the Unknown Craftsman - to being allowed to 'go mad' in the British Museum. He first narrowed down his pick of the museum's collection to around a thousand pieces, selecting work he was already interested in, before moving on to items that he found by chance or association.
The end product is 30 of his own artworks displayed alongside 170 pieces from the museum's stores, ranging from treasures of antiquity to contemporary items. With themes exploring the notions of craftsmanship and sacred journeys - from shamanism, magic and holy relics to motorbikes - the artefacts on show include Polynesian fetishes, Buddhist votive offerings, a prehistoric hand axe and a Hello Kitty hand towel.
'I invite you to view these artefacts by reading them through my lens,' Perry explains. 'I am not a historian, an archaeologist or an ethnographer. I am an artist and this is principally an art exhibition. I have made my choices of objects from the BM collection because of their connections with each other and with my own work. Sometimes the connection is in their function, sometimes in their subject, and often in their form. One thing that connects all my choices is my delight in them.'
ADDRESS
British Museum
Great Russell Street
London WC1B 3DG
VIEW GOOGLE MAPS (opens in new tab)