Light shows and pink feathers: how Art Basel 2015 took over Hong Kong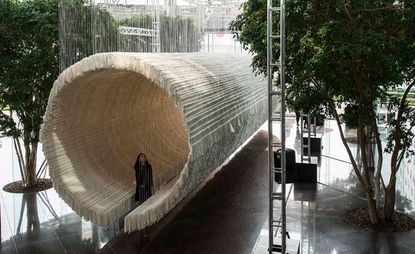 (Image credit: Pearl Lam Gallery)
Art Basel swept into Hong Kong this week sparking a creativity frenzy that spread well beyond the 233 galleries showing in the city's monolithic convention centre as everyone from up-and-coming young local designers to international galleries and fashion designers jumped on for the ride.

The winners were the public, who were treated to a series of world-class public installations in shopping centres across the city including Zhu Jinshi's 'Boat', an intricate 15x3.5x4.2 metre immersive installation crafted from 10,000 sheets of Xuan paper, presented in Exchange Square. At Central's Landmark mall, local art collector and architect William Lim's suspended plexiglass dome displayed nine important artworks valued at over US$ 19 million including a mesmerising portrait by Chinese artist Zeng Fanzhi, while a set of telescopes enabling closer inspection of the works reflected on how contemporary art is viewed.

Across the harbour, the Peninsula Hotel turned tradition on its head with British sculptor Richard Wilson's full-sized replica of a vintage twin-axel Harrington Legionnaire coach teetering rather alarmingly on the edge of the hotel's 7th floor terrace. The installation, titled 'Hang On A Minute Lads…I've Got A Great Idea', replicated the final scene of the iconic film, The Italian Job.

Nearby, the city's tallest building, the International Commerce Centre, exhibited Chinese multimedia artist Cao Fei's 'Same Old, Brand New' light show. Drawing inspiration from 1980s video games, images from Pac-Man and Tetris were projected onto the skyscraper's futuristic façade. A smartphone app allowed viewers to hear music while watching.

The city's growing number of art galleries also upped their game with a stellar showing of works from French graffiti artist and photographer JR who exhibited several ethereal new pieces titled 'Ghosts of Ellis Island' at Galerie Perrotin, to Duddell's 'ICA Off-Site: Hong Kongese' that reflected on the pace of urbanisation with a range of works including Shinro Ohtake's intricate 'Time Memory' collage, Zeng Hong's 'Balcony', and a miniature replica of Millie's Centre Neon Sign courtesy of the M+ visual arts museum.

Meanwhile, in the rapidly gentrifying Sheung Wan district, Pearl Lam's newest gallery dedicated to emerging artists unveiled an intriguing collection of architectural beeswax installations by the young Beijing artist, Ren Ri. The beekeeper-artist 'collaborates' with bees, manipulating the formation of honeycombs to create organic sculptures and intricate maps of the world.

On the opposite side of Hong Kong island, one of Hong Kong's strongest alternative art institutions Para Site opened a larger new space in Quarry Bay with 'One Hundred Years of Shame – Songs of Resistance and Scenarios for Chinese Nations'. Works include Huang Xiaopeng's 'When Harry Met Sally' light box artwork and Firenze Lai's hauntingly beautiful 'Human Chain' painting.

One of the strongest showings in town, however, was at the Tod Williams and Billie Tsien-designed Asia Society in Admiralty, where Japanese artist Yoshitomo Nara's 'Life is Only One' retrospective of paintings, sketches, photographs and installations offered a fascinating glimpse into the notoriously shy artist's world.

A new satellite event - Art Central - also appeared on the scene this year, targeting a younger crowd with works like Stella Zhang's all-white hand-sewn space installation for Galerie du Monde and Chinese ink painter Lan Zhenghui's monumental paintings. The 10,000 square meter harbourfront tent designed by London-based architecture firm Stiff & Trevillion-designed was also home to local architect Joyce Wang's ultra contemporary take on the traditional crystal chandelier for Swarovski.

Back at Art Basel, now under the direction of Adeline Ooi, visitors found the usual list of big-hitting names such as Anish Kapoor and Grayson Perry, whose 'Comfort Blanket' tapestry generated considerable interest on opening night. David Zwirner Gallery, which presented a polychromed wood sculpture of Buster Keaton by Jeff Koons, and several enigmatic paintings by surrealist-realist painter Neo Rauch, also reported very strong sales.

This year, the Fair's expanded Encounters Sector benefitted significantly from curation by Melbourne art expert Alexie Glass-Kantor who introduced 20 large-scale installations from 14 countries. The most noteworthy was Hong Kong-based artist Joao Vasco Paiva's 'Mausoleum', a 5.6-metre tall installation of ubiquitous marketplace Styrofoam boxes cast in stone resin.

On the VIP Lounge front, Art Basel lead partner UBS went beyond providing a comfortable refuge, exhibiting an eclectic mix of works by Haegue Yang and Wilson Shieh alongside David Hockney, Andy Warhol and Gilbert and George, reinforcing the strong Japanese and Korean presence this year.

Sculptural highlights included young Korean artist Myeongbeom Kim's striking deer and Paolo Pivi's shocking pink-feathered polar bear. The ultimate crowd-pleaser, however, proved to be Japanese artist Shintaro Miyake who, perched on a Sori Yanagi-designed Elephant Stool, treated visitors to a live wall drawing performance.
'Millie's Centre Neon Sign (miniature replica)' was another highlight at Duddell's. Courtesy of M+, West Kowloon Cultural District
ADDRESS
Art Basel Hong Kong 2015 was at the Hong Kong Convention & Exhibition Centre, 1 Expo Drive, Wan Chai, Hong Kong