Anish Kapoor sculpture, Berlin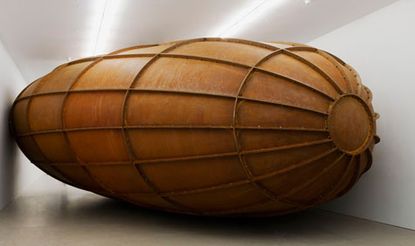 (Image credit: Press)
Wallpaper* Newsletter
Receive our daily digest of inspiration, escapism and design stories from around the world direct to your inbox
Thank you for signing up to Wallpaper. You will receive a verification email shortly.
There was a problem. Please refresh the page and try again.
Within the realm of large-scale contemporary sculpture, Anish Kapoor is one of that elite class of operative - Richard Serra and Jeff Koons among them - whose technically wondrous creations, by virtue, if nothing else, of sheer size and audacity, force us to rethink our ideas of space, perspective, material, and structure.
Less kitsch than Koons and more diverse than Serra, the Turner Prize-winner's larger-than-life creations defy ready categorization. Some prominent recent works include Svayambh, a 1.5-metre carved block of red wax on rails (2007), the large concave Sky Mirror (2006) at the base of New York's towering Rockefeller Plaza, Cloud Gate (2004), a reflective stainless steel mass in Chicago's Millennium Park, Marsyas, the visually overwhelming steel and red PVC installation that engulfed the Tate Modern's Turbine Hall in 2002, and the 35-metre tall Taratantara (1999) in Gateshead, England.
See the above sculptures and more of Kapoor's past work
A major new site-specific work entitled Memory is currently on show at the Deutsche Guggenheim in Berlin until February 1. The raw, brown, Cor-Ten steel structure (Kapoor's first use of the material, one of Serra's favourites), just 8mm thick, is like a landed alien pod or a relic from an old war, unwieldy, tightly fit into the otherwise bare white space.
See more of Anish Kapoor's latest sculpture, Memory
The claustrophobic physicality deliberately impedes viewing the entire object at once. Instead the spectator is forced to creep around and piece together fragmented perspectives, the individualized creation of what Kapoor calls 'mental sculpture', all the while wondering how on earth the thing stays upright.
Whether as impressive feats of sculptural industry, unexpected visual delights (like rediscovering the plain blue sky reflected amidst the frenetic urban jumble of midtown Manhattan), or simply things of elegant beauty in themselves, Kapoor's art never ceases to inspire, provoke, and most of all remind us that the boundaries as we know them are only the beginning.
ADDRESS
Unter den Linden 13/15
10117 Berlin
Receive our daily digest of inspiration, escapism and design stories from around the world direct to your inbox