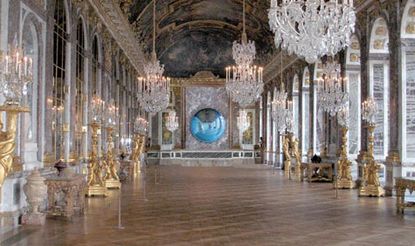 (Image credit: jeffkoons.com)
The inspired and potentially controversial juxtaposition of American mod pop iconography and ornate French classicism is the unlikely context for a new exhibition of large-scale work by New York artist Jeff Koons, being staged within the opulent rooms and manicured gardens of the Palace of Versailles.
Click here to see more of Jeff Koons' work

Koons' sculptural installations are all about impact, exquisitely crafted extrapolations of the kitsch and the mundane. Through sheer scale they seem to demand monumental backdrops – the jagged Manhattan skyline behind a giant metal balloon dog on the roof garden at the Met (still up until the end of October), or the ornate gold gildings, crystal chandeliers and lofty frescoed ceilings of the state apartments once occupied by Louis XVI and Marie-Antoinette.
'A brief moment of madness, perhaps, but a risk worth taking,' in the words of the exhibition's curators, and indeed the contrast is stark. Fifteen major works, one per room, occupy key spaces throughout the palace – from a giant lobster, modelled after an inflatable children's toy hanging in Le salon de Mars, to the large vase of flowers in the Queen's Apartments and the more than three-metre wide blue reflective 'moon' against a far wall in the legendary Hall of Mirrors.
Other well-known pieces on show include Rabbit, in shiny silver, another balloon dog in cerise, and Split Rocker, an oversized animal's head created using tens of thousands of colourful flowers, situated outside in the Parterre de l'Orangerie.
More accustomed to the blank austerity of modern art museums, the clash of colour, style, size and era becomes as much a part of the viewer's experience as the installations themselves. And despite the ostensible discordance, Versailles was, in its day, a place of over the top celebration, artistic decadence and vibrant creativity. By that standard Koons fits the bill perfectly. Marie-Antoinette might even have approved.
Receive our daily digest of inspiration, escapism and design stories from around the world direct to your inbox