Grayson Perry on becoming a national treasure, Trump, and how everything means nothing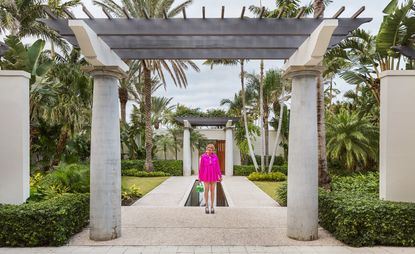 (Image credit: Scott Rudd, Windsor)
Home to tycoons, tennis stars, and the Swarovski's winter residence, a 412-acre luxury estate in south Florida is not the first place you'd expect to find Grayson Perry's transvestite alter-ego Clare gallivanting in a golf buggy. Nonetheless, she (and he) arrived this weekend at Windsor in a ferociously pink, bum-covering mini-dress and purple platforms, for the inaugural exhibition of a three-year partnership between Windsor and the Royal Academy of Arts (RA).

The partnership is the brainchild of Christopher le Brun, president of the RA, who staged an exhibition of his own work at The Gallery at Windsor last January. In doing so, he formed a bond with the resort's founders – Canadian retail moguls the Westons, in particular Mrs Hilary Weston, who serves as The Gallery's creative director. She's a force to be reckoned with, having previously spearheaded Windsor exhibitions of Alex Katz, Ed Ruscha and Peter Doig.
Installation view of 'Making Meaning' at the Windsor, Florida.
Le Brun, along with Royal Academy of the Arts artistic director Tim Marlow, presented Mrs Weston with a shortlist of Academicians for her to choose from. 'I visited each artist's studio and knew Grayson would be a good choice,' Mrs Weston explains. 'But my daughter – who founded this gallery 16 years ago – questioned my decision. She thought Grayson's work might not be quite right for the members here. But I told her, "Not only is he a very exciting artist, but the audience here at Windsor is very sophisticated. They're going to be thrilled."'

Whether she's right is the question on everybody's lips – except Clare's bright red ones. Though Perry has only had one solo exhibition in the States (at the decidedly less conservative Warhol Foundation in New York over a decade ago), he's convinced he'll find an admiring audience for his euphemistic, self-deprecating Anglophilia at Windsor. 'They'll lap it up,' he says. 'I'm not going to scare the horses too much. I'm under no illusion that a very big part of my job is to do very posh interior decoration, for big houses like the ones across the golf course here.'
Hold Your Beliefs Lightly, 2011, by Grayson Perry, computerised embroidery on cotton and silk
And he seems to be right. On opening night, approving 'oohs', 'aahs' (and occasional 'hahas') resonate out over the 19th hole. Curated by Victoria Miro's Erin Mann, 'Making Meaning' is a succinct survey of Perry's oeuvre, so titled, says Perry, 'because life is meaningless, and it's our job as artists to make meaning out of it.' It features examples of his ceramics, sketches, cast-iron figures and monumental tapestries, each imbued with Perry's stealthy cultural commentary.

Identity, defining selfhood and 'our curmudgeonly, cynical, joyful, odd, Britishness' are overriding themes. Take the giant tapestry of a £10 note – Comfort blanket (2014) – embroidered with stereotypical English phrases, oddities, and a giant portrait of the Queen's face. Perry describes it as 'a patchwork of Britishness'. Though local Windsor residents seem confused by what is meant by 'Barratt Houses', 'allotments' and a 'nimby', Perry is unphased if the work gets lost in translation. In fact, he celebrates it. 'Maybe visitors here won't get every reference of my very British mindset. But if you're a white, middle class British man of a certain age, it's good to "other" you, so to speak', he says. 'Often with identity, you're never aware of it until it becomes an issue.'
Grayson Perry at the Windsor, Florida, 2018.
Initially, like Clare's outre garb, the innate Britishness of the work – where the words 'RAIN' and 'BITTER IRONY' are front and centre – seems as if from another planet to its sun-drenched, self-satirising surroundings. But Clare's larger-than-life demeanour, and the work's raucous vibrancy, actually falls into step with its extravagant, filmset-like home. Like so much of what Perry does, the work is so far outside the box, it finds its way back in.

For years, he has catwalked between circles (or 'tribes' as he calls them) with enviable ease. One evening he's an anti-establishment punk who hangs out with the likes of Boy George, the next he's a populist TV face who hangs out with the likes of Christopher le Brun (a figure he comically caricatures in his work Bad Portraits of Establishment Figures, 2013). Like his £10 tapestry, he too is a 'patchwork of Britishness', able to present as male, transvestite, working class, middle class, starving artist and panel show politico – giving him a certain license to comment upon (and cajole) each demographic. Which he does with a heavily-lidded wink – a gentle teasing he calls a 'provocation, but not a catastrophic one.'
Comfort Blanket, 2014, by Grayson Perry, tapestry
Now, adding to the list of identity cards in his pocket, he has decided to embrace the idea of being a national treasure. 'If there's one thing that appalls me it's ageing rockers pretending they're still rebels,' he says. 'Just because you're a member of the establishment, doesn't mean you can't be thoughtful, break taboos and change society. After all, punks are pensioners now.'

In fact, gaining his national treasure status and increasing in popularity – something that only started happening in his late 30s – has served to push Perry's work in new directions. 'Popularity, particularly being on TV, bent me out of shape,' he says. 'It made me make work on things I would never have tried, had I just been producing what I wanted.' For the last decade or so, his goal has been to broaden the arts audience, without dumbing it down (hence the title of his last, sell-out solo exhibition at Serpentine Galleries 'The Most Popular Art Exhibition Ever'). If his aim is to cast conceptually challenging art's net wide, Windsor seems as good place as any, though he's still convinced his entire audience comprises 'art students and middle-aged women'.
The Island Of Bad Art, 2013, by Grayson Perry.
Despite this massive upswing in widespread and various popularity, Perry has not sacrificed his humility. In fact, he still struggles with self-confidence when it comes to his work – something that seems important to him. 'I constantly worry, to this day, if I've made the right things,' he offers. 'It's lovely to get praise. Everyone wants to be called a genius. But being a self-proclaimed genius is another matter. There's one of the those 100 miles down the coast,' he says, in a thinly-veiled allusion to Donald Trump.

But this is not an exhibition that overtly looks at American politics, or even British politics. Instead, it's about looking inwards, and acknowledging the universally occuring weirdness that we find there. 'In both Europe and America, we seem to be at a moment when we are examining ourselves, asking who we really are,' says Mrs Weston. 'Looking at Grayson's thorough investigation of his identity will propel us to reflect on our own. This can only be a good thing.'
INFORMATION
'Grayson Perry: Making Meaning' is on view until 27 April. For more information, visit the Royal Academy of Arts website (opens in new tab) and the Windsor website (opens in new tab)
ADDRESS
The Gallery at Windsor
3125 Windsor Boulevard
Vero Beach
Florida
VIEW GOOGLE MAPS (opens in new tab)
Elly Parsons is the Digital Editor of Wallpaper*, where she oversees Wallpaper.com and its social platforms. She has been with the brand since 2015 in various roles, spending time as digital writer – specialising in art, technology and contemporary culture – and as deputy digital editor. She was shortlisted for a PPA Award in 2017, has written extensively for many publications, and has contributed to three books. She is a guest lecturer in digital journalism at Goldsmiths University, London, where she also holds a masters degree in creative writing. Now, her main areas of expertise include content strategy, audience engagement, and social media.