Life, death and desire in George Taylor's feather artworks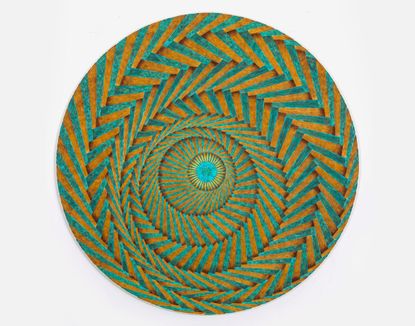 (Image credit: Courtesy of the artist)
George Taylor has a problem with peacocks. 'There aren't any dead ones!' laughs the British artist, who harvests ethically sourced feathers – from Mexican farms to British Victorian taxidermy collections – before painstakingly weaving them into the most compelling, intricate frays. Coinciding with International Women's Day 2018 (8 March), 24 of Taylor's newest works, each more physical, symbol-laden and sensual than the last – are on display at a solo exhibition, 'Intimate Immensity', at London's Pangolin Gallery.

As well as using exotic feathers from far-flung corners, Taylor also scavenges her materials closer to home, from deceased foul on her Gloustershire farm. 'I grew up here, and am completely at home with farm life, and all its gory bits,' she explains. 'Defeathering isn't an issue for me. In fact, the physicality of plucking and preparing – it's gorgeous.'
Orisis, 2018, by George Taylor.

Though she often craves the artistic fervour and pulse of the city, Taylor's English countryside idyll is an almost ritualistic environment in which to make these works, themselves so reliant upon the natural world. 'Living up against the woodland is an inspiration,' she explains of the 'magical space' she calls home. She sits for hours in her studio (enlisting the help of friends, locals her mother), 'watching the march hares standing up on their haunches', preening, plucking, weaving.

It isn't all therapeutic wiling away the days, however. Feathers are a difficult material to work with. 'You can't go back into these works; you have to know what it's going to look like from the beginning. And if you make a mistake its there forever.' A 4ft wide section of work takes around three months to complete. In both their highly physical production methods and the final, mind-bending result there's an inherent sensuality surrounding the work, which she likens to a sense of 'Victorian titillation'.

As such, Taylor draws deeply from the writings of the 19th-century thinkers, like French philosopher Gaston Bachelard whose term 'intimate immensity' she has borrowed for the exhibition title. Relating to Bachelard's correlation of a moment of inner stillness with 'eternal disquiet' and the continual cycle of life and death, Taylor's works are at once mesmerisingly still and full of life. There's a tussle going on, between the wind that once soared through the feathers, and the rigidity with which they are now stuck together, behind glass.
The Beast in Me, 2017, by George Taylor.

This subtle half-step between movement and stillness, life and death, is at the core of the exhibition. Taylor has long been fascinated with the idea of Nirvana reached through the 'little death' of sexual orgasm. And recently, she has thrown herself into the work of feminist philosopher Luce Irigaray whose thoughts about how erotic intimacy and proximity could evoke a sacred stillness play out within Taylor's monumental work The Beast in Me (2017). At 7ft tall, shifting tonally from black to green, and made from the glistening feathers of the cockerel and crow, it marries Taylor's interests in the sinister and the sensual with finality.

Themes of overpowering closeness, high-eroticism and the symbolism of feathers, are further explored in a new film, Innocent Potency, which is being screened for the first time at the exhibition. With a visual punch, it interweaves imagery of an innocent – but sexually charged – pillow fight with raw imagery of Cuban cockfighting rituals.

On first impression, the works are beautifully crafted, fragile objects; feminine even. They make use of colour, shape and tone, like she's painting with feathers. They're also fierce and uncompromising; laden with months of labour, a library of symbolism, and a history of ritual. Even under their glass frames, they fly.
INFORMATION
'George Taylor: Intimate immensity' is on view until 14 April. For more information, visit the Pangolin London website (opens in new tab)
ADDRESS
Pangolin London
Kings Place
90 York Way
London N1 9AG
VIEW GOOGLE MAPS (opens in new tab)
Elly Parsons is the Digital Editor of Wallpaper*, where she oversees Wallpaper.com and its social platforms. She has been with the brand since 2015 in various roles, spending time as digital writer – specialising in art, technology and contemporary culture – and as deputy digital editor. She was shortlisted for a PPA Award in 2017, has written extensively for many publications, and has contributed to three books. She is a guest lecturer in digital journalism at Goldsmiths University, London, where she also holds a masters degree in creative writing. Now, her main areas of expertise include content strategy, audience engagement, and social media.