Garage Museum's new exhibition maps the history of Russian performance art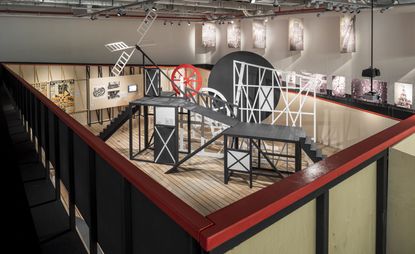 (Image credit: Yuri Palmin)
The Garage Museum of Contemporary Art in Moscow recently unveiled 'Russian Performance: A Cartography of its History' – a large-scale exhibition, curated by Yulia Aksenova and Sasha Obukhova. The exhibition covers a century of performance art from the theatrical experiments of Kazimir Malevich and Vsevolod Meyerhold to the protest works of Pussy Riot.

'Exhibitions of performance art are often monotonous and dull, with endless descriptions of the projects and low quality photographs,' says Sasha Obukhova, fellow curator of the show and head of the research department of Garage Museum. 'We aimed to make sort of a quest, so that even people who don't care about details of history would get involved.'

That quest starts in 1913, when Russian Futurists painted their faces and went onto the streets of Moscow to 'slap public taste in the face' and ends with Pussy Riot's performative protest at the policies of Russian president, Vladimir Putin.
Between these two tension points lies 100 years of the history of Russian performance. And the Garage show is the most academically complete examination of this art form in this country: featuring the works of more than 150 artists, including the seminal Collective Actions group, created in 1970s but active for over two decades, the 1990s aggressive 'actionism' of Oleg Kulik, Anatoly Osmolovsky, Alexander Brener, and their contemporary followers like the Voina group and Petr Pavlensky.

The curators have smartly created 12 thematic paths through the show, from 'slogan' and 'sound' to 'city' and 'interactive object'. They are also encouraging visitors to try their hand at performance art, a tactic that may be the most revolutionary gesture in Russia's contemporary exhibition practice.
'Performance is the most provocative and radical art form, its history is a series of scandals and conflicts,' says co-curator Yulia Aksenova of the show. 'It is always a test of the limits of what is permitted both in art and society.'

We spoke to co-curator Sasha Obukhova to find out more...

Wallpaper*: It's not the first time that Garage Museum has dedicated a show to the history of performance art, what makes this one special?
Sasha Obukhova: Most of the previous projects were about Western experience and actual performance practices. We decided to consider the Russian history of this art form. It is also concurrent with the centenary of the first Futurist theater performances. Russian avant-garde artists revolutionised theater and drove it beyond its limits. They drew two vectors – one directed from life to art, another from art into life – and on the junction, performance emerged as the new art form.

Is there anything uniquely Russian in Russian performance art?
We found how the so called eternal 'Russian questions' – the relationship to utopia, reality and future – are reflected in the Russian performance. The Russian tradition of performance is also more inclined to an act or deed, rather than performative mastery. The second characteristic feature of Russian performance is an almost absolute neglect of corporeality or body language. With rare exception, Russian performances are bodiless and asexual, which you can see in the legacy of Collective Actions who were a very influential group.

There was an outburst of 'actionism' in Russian art in the 1990s. That decade is associated with aggressive actions by Anatoly Osmolovsky, Oleg Kulik, Alexander Brener and others. While in the 2000s, artists seemed to loose interest in performance. Why do you think this is?
For many reasons, but especially the growth of the art market. In Russia performance – as well as readymade and album art and diary graphics – has never been considered an academic. In other words: easily capitalised tradition. So the dominant positions were taken by more commercial kinds of art, like painting, installation, designer objects and such.

In contemporary Russia performance is the art of conflict. If we talk about performance today, we have to talk about Pussy Riot or Petr Pavlensky with their politically driven actions. But you are actually doing a museumification of the protest gesture. What the government brings to criminal court, you place into history...
We can't simply ignore the actions that are subject of public and art-critical debate. However, we found it difficult to represent them within the exhibition. Not that we encountered any ideological pressure from the authorities, but – strangely – we faced obstruction from the artists themselves.

This exhibition is made by the Garage Research department, based on the archive of contemporary art that you've collected for 20 years. Some time ago this archive became part of the museum and the foundation for the Research department, library and videotheque. What are your objectives today?
The Research department is not only about collecting and archiving information on the history of contemporary Russian art. It is even more about active propagation and education through exhibitions, publications and other forms of professional activity. And ultimately, to show the world that Russia still owns the energy of post-avant-garde experiment. Performance is action, and – as it was written in the manifest of the seminal 1990s actionist group Expropriation of the Art Territory - 'action is revolution'.
ADDRESS
Garage Museum
9, Krymsky Val St
Moscow 119049
Receive our daily digest of inspiration, escapism and design stories from around the world direct to your inbox