Frieze New York 2023 opening day: what went down
As Frieze New York 2023 kicks off at The Shed (until 21 May), Jessica Klingelfuss reports on an electrifying opening day and highlights the unmissable offerings at this year's fair and beyond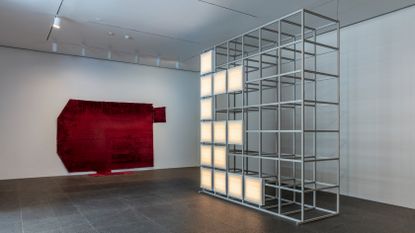 (Image credit: Pierre Le Hors)
The well-heeled fairgoers at Frieze New York 2023 (17 – 21 May) were immediately blown away – literally – as they arrived at a blustery Hudson Yards for the fair's VIP preview, upended coiffures discreetly restored as they filed into The Shed. Over 60 galleries from 27 countries – featuring a strong contingent hailing from New York, among them Karma, Matthew Marks Gallery and 303 Gallery – are presenting a market-fresh buffet of contemporary art at the Diller Scofidio + Renfro-designed building over the next few days. There's a healthy dose of new faces too: galleries participating in Frieze New York for the first time include Arcadia Missa, Neue Alte Brücke, Silverlens, Emalin, Whistle, Mitre Galeria and Derosia.
Artists have seemingly rebounded from the dark toil of the past few years, echoed by the sense of optimism in an array of dazzling and kaleidoscopic works on display, from Robb Pruit's meditative ombré canvases and Sanford Biggers' chromatic cubes at Massimo de Carlo to a brilliant new mixed-media painting at Victoria Miro and chromatic works at Esther Schipper by Ann Veronica Janssens, Angela Bulloch, Matti Braun and Jac Leirner. Studious presentations, such as the abstract paintings of the late Jack Whitten at Hauser & Wirth and Suzan Frecon at David Zwirner countered these.
New York artists, too, are having a star turn at this year's fair. Pace Gallery, which ambitiously opened six solo exhibitions in the city last week by Matthew Day Jackson, Nigel Cooke, Maysha Mohamedi, Trevor Paglen, and Grada Kilomba, gave over its Frieze booth to Yale-educated, Brooklyn-based artist Robert Nava, spotlighting fantastical new and recent works on paper ahead of his first museum survey in Europe next month. Also based in Brooklyn and the recipient of the inaugural Frieze Artadia Prize, Jessica Vaughn debuted a major site-specific commission examining 'how American life is pictured, felt and structured' – the culmination of a three-year-long exploration of the United States Postal Service.
With photography often an endangered species at major art fairs, Gagosian's decision to present a solo booth of eight grid works by Nan Goldin (the artist recently signed with the gallery) was a bold and welcome one. Still, we devoured the few and far between photo-media works, including Luke Fowler's prints at The Modern Institute and a Roe Ethridge still life at Andrew Kreps Gallery. In the Focus section dedicated to younger galleries, Jagdeep Raina's embroideries at Toronto-based Cooper Cole were admired as were Emma Prempeh's intimate paintings at first-time Frieze New York exhibitor Tiwani Contemporary.
The Artist Plate Project, meanwhile, launched its newest series of limited-edition dinner plates (in a tempting tote bag-friendly size, we noted) designed by artists such as Virgil Abloh, Marilyn Minter, Ed Ruscha and Mickalene Thomas. Funds raised will directly benefit the Coalition for the Homeless, providing food, crisis services, housing and other critical aid.
Frieze New York 2023: beyond the booths
As ever, the city's illustrious institutions are complementing the main fair with an electrifying programme of exhibitions and events during Frieze Week. So to Queens, where 2023 Loewe Foundation Craft Prize winner Eriko Inazaki is showcased alongside the award's finalists in the first public exhibition to be staged in Isamu Noguchi's former studio (directly across from the Noguchi Museum in Long Island City). The first US museum survey of Josh Kline, meanwhile, spans over a decade of the American artist's work, including new installations and moving image works that address the escalating climate crisis and the hotter, more dangerous future looming.
Swiss conceptual artist Pamela Rosenkranz has branched out on the High Line with a 25ft neon pink tree, its limbs and roots mirroring blood vessels. Crowds have been flocking to the Met to immerse themselves in the creative mind of designer (and one-time Wallpaper* guest editor) Karl Lagerfeld ('Karl Lagerfeld: A Line of Beauty' runs until 16 July) but also not to be missed at the museum is the focused survey of New York-based painter Cecily Brown. The exhibition brings together some 50 paintings, drawings, sketchbooks and monotypes – many recently completed – delving deep into the artist's preoccupations with themes of vanitas, still lifes and memento mori. Meanwhile, ancient Egyptian symbolism, 1960s utopian architecture and graffiti tagging collide in Lauren Halsey's roof garden commission for the Met: an inviting full-scale structure that pays homage to the community spirit of her native Los Angeles.
Frieze New York 2023 runs until 21 May at The Shed, New York. frieze.com