Upmarket flea-market: Rob Pruitt's high-art bazaar hits the West Coast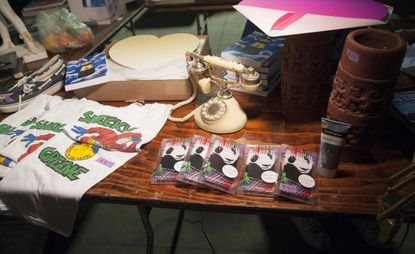 (Image credit: press)
'I love LA, and I haven't had a show here since I was 26 years old. I actually never pursue things, I just wait to be pursued; so when Shamim (Momin, director and curator of the Los Angeles Nomadic Division) contacted me in the fall and asked me if I wanted to do a flea market, I loved the idea,' says Rob Pruitt, who has been putting on fleas with his contemporaries for the past 15 years (from New York to London to last year's Venice Biennale). In addition, he's just released a book, Rob Pruitt's eBay Flea Market: Year 1, cataloguing all the listings of his online marketplace. 'The first one was at Gavin Brown's gallery. He just asked me to curate the summer show – i'd never curated a show before so I just went home and thought about what kind of show I could curate and [that was] what I came up with. Oh my God, that one was so good.'

While the inaugural flea was filled with New York stars like Bernadette Corporation, Haim Steinbach, Rachel Harrison and his partner Jonathan Horowitz, when Pruitt agreed to bring his bazaar to the West Coast, he wanted it to be focused on Angeleno talent. 'It's sort of like the local food movement; it doesn't really make sense for friends from New York to be in it, because it's about the community and it's about a West Coast experience,' says Pruitt, who worked with LAND to assemble the list of artist vendors.

Highlights inside the downtown warehouse included t-shirts and hoodies printed with nudes by ascendant painter Alex Becerra. Some promoted his band Los Tres Pericos, while others touted the music studio within his art studio, dubbed Lexus of Inglewood, not to mention the squid ink drawings that inspired the imagery on the gear (all of which were $200 and under). Ry Rocklen – who has cast everything from his La-Z-Boy to his bean bag and his entire wardrobe – sold small porcelain tiles made of his shirts (from guayaberas to old polos) that ranged from $30–$125.

Eve Fowler's Artist Curated Projects was selling ceramics of all kinds, from tiny sculptures by Julia Haft-Candell, bowls and goblets by Shoshi Kanokohata, and assorted objects by Chris Miller and Brittany Mojo; while designer Kelly Lamb had a table full of her geodesic planters and 'Pricklies' – porcelain casts of her feet that housed prickly pear cacti (all less than $250).

Elsewhere, the independent galleries Good Weather (from North Little Rock, Arkansas) and Hollywood's Last Project were respectively hawking cheeky blankets by Talon Gustafson and painted picket signs from performances by San Francisco icon Xara Thustra. Meanwhile, Stephen Neidich bundled up the flotsam and jetsam of his studio and storage space – and some odds and ends stolen off the street (old furniture, carving tables with a red heat lamp, a light up Santa Claus) – and wrapped the bundle in green saran wrap. 'I'll consider all offers,' he joked.

One of the hottest tickets of the of the night, however, were the hand-made Valentines at Pruitt's booth, which also featured old pairs of Vans shoes, harlequin lamps and copies of his book. Each of the heart-shaped, poster-board paintings was finished in his signature gradients; for the lucky few who nabbed one (at just $150) he signed them 'I Love You, Rob Pruitt'. They all seemed to collectively inspire that classic sweetheart wish: 'Be Mine'.
INFORMATION
For more information, visit Rob Pruitt's website