Lynda Benglis' seductive hall of mirrors and juicy neon eggs in London
American artist Lynda Benglis subverts expectations with new bronze sculptures and otherworldly coloured eggs in a new solo show at Thomas Dane Gallery, London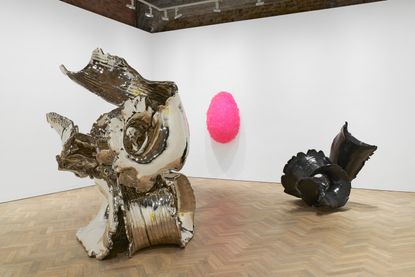 (Image credit: Installation view of Lynda Benglis at Thomas Dane Gallery, London)
Lynda Benglis' show at London's Thomas Dane Gallery resembles the site of an alien invasion – if the aliens had an innate sense of material, colour and form.
In the centre of the space, something shiny is erupting rhythmically from the floor like curled-up tyre tracks, a loop-the-loop gone haywire, or a mirrored explosion frozen in time. In any case, Elephant: First Foot Forward (2018) looks as though it's been wrestled with. Part of a series the artist calls 'Elephant Necklaces', it began its life as a clay model, which Benglis then casts and enlarged using digital tools.
Benglis has worked with ceramics since the 1990s and describes her process as a dance of sorts. This dance is visible on the surfaces of these sculptures, a physicality passed to the viewers as their bodies gyrate, bend and warp in the sculpture's reflection.
In a variation on a theme of hyper-polished surfaces, the most beautiful piece in the show is the small bronze sculpture B-Witched, 2022. Its gilded knots, bows and twists look creature-like, but not one of this world.
While the bronze sculptures are thoroughly grounded, Benglis' jelly-like neon-coloured polyurethane eggs sprout from the walls in globular incandescence. Peitho, 2017, in particular, takes every inch of willpower not to touch and is as bodily and carnal as the wax paintings and poured latex sculptures for which Benglis is best known. Its seductive hot-pink surface undulates and almost appears to move. The nods to fertility and new life are difficult to avoid, but what grows within remains a mystery.
Lynda Benglis' Thomas Dane Gallery London show is a distilled example of the artist's expert and calculating command of matter. Fragile materials exude stoicism; robust materials seem weak; hard is soft, and soft is hard. Though Benglis has been playing a game of expectation subversion for more than 50 years, this new London art exhibition demonstrates that she still retains the ability to imbue her surfaces with ambiguity, emotion and seduction in equal measure.
Lynda Benglis' show at Thomas Dane Gallery, London runs until 29 April 2023. thomasdanegallery.com (opens in new tab)
Harriet Lloyd-Smith is the Arts Editor of Wallpaper*, responsible for the art pages across digital and print, including profiles, exhibition reviews, and contemporary art collaborations. She started at Wallpaper* in 2017 and has written for leading contemporary art publications, auction houses and arts charities, and lectured on review writing and art journalism. When she's not writing about art, she's making her own.