Eduardo Chillida's majestic sculptures meet rural Somerset
A craftsman's intimacy, a philosopher's sensibility and a cosmic vision: Spanish sculptor Eduardo Chillida's legacy is celebrated in a new show at Hauser & Wirth Somerset. Wallpaper* contributing editor Nick Vinson takes a first look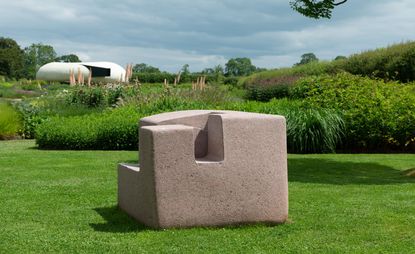 (Image credit: Ken Adlard)
Wallpaper* Newsletter
Receive our daily digest of inspiration, escapism and design stories from around the world direct to your inbox
Thank you for signing up to Wallpaper. You will receive a verification email shortly.
There was a problem. Please refresh the page and try again.
A major new show dedicated to the work of Spanish sculptor Eduardo Chillida is about to be unveiled at Hauser & Wirth's Somerset outpost, on Durslade Farm in Bruton. The exhibition, which runs until January 2022, contains 43 works, many loaned from the Estate of Eduardo Chillida, and Chillida Leku, the outdoor museum near San Sebastián, Spain, dedicated to the work of the pioneering artist.
The show spans 51 years and includes 24 small- and large-scale sculptures, alongside works on paper, hung in three of the five original farm buildings and among the landscape. On a 32 sq m concrete platform in the farmyard sits Consejo al Espacio IX (Advice to Space IX), one of the largest sculptures in the show, completed in 2000 and made in Corten steel, it opens up like a hand towards the Durslade Farmhouse.
Enter the Threshing Barn and you will come across two early figurative works from Chillida's time in Paris, when the artist, inspired by ancient Greek sculptures from his visits to the Louvre, worked in traditional plaster and bronze. These contrast with the works from 1955 in limestone, 1969 in steel and 1984 in chamotte clay, which illustrate the artist's return to San Sebastián in the north of Spain in 1951, when he started to work with natural and industrial materials local to the Basque country.
In the Workshop Gallery are sculptures from the 1970s, 80s and 90s in chamotte clay and two pieces in iron, including Lotura VIII (Knot VIII) from 1991. These relate to a large-scale outdoor work that stands at Chillida Leku, and are shown here together with ink on paper works, including two figurative Mano (Hand), from 1976 and 1984 as well as collages from the 1980s and more abstract graphic works that the artist became known for.
In the Pigsty, the early 90s sculptures in chamotte clay feature copper oxide, these works are small in scale, but as illustrated with Lurra M-7 (Earth M-7) despite being just 23 x 32 x 27 cm, the gap between the two halves of the piece is still monumental. These are accompanied by the artist's Gravitacións or gravitations, works made of paper, ink and string. Chillida produced these pieces alone in San Sebastián in the 80s and 90s, often listening to Johann Sebastian Bach's chamber music, so the first of four movements of the Goldberg Variations – performed by Kimiko Ishizaka – plays in the Threshing Barn. Also hung in the Pigsty is the largest work on paper the artist produced, an etching from 1988 entitled Homenaje a Aimé Maeght (Homage to Aimé Maeght), in remembrance of his gallerist who passed away in 1981.
Following two steel and Corten steel pieces in the cloister courtyard, the show's striking finale can be found in the Oudolf field, Piet Oudolf's 1.5-acre meadow. There, you can find Harri VI (Stone VI) 1996 in pink granite and Elogio del Cubo, Homenaje a Juan de Herrera (In Praise of the Cube, Homage to Juan de Herrera) 1990 in Corten steel.
RELATED STORY
Visitors familiar with Chillida Leku, where around 40 of Chillida's monumental steel and stone sculptures sit within a 13-hectare park and a traditional 16th-century Basque country caserío farmhouse, renovated by the artist, will see a strong connection with Durslade Farm, a working free-range farm that dates back to 1768. The two settings could not be more similar. Chillida said Leku, which means space in Basque, was a utopia, 'a place where my sculptures could rest, so that people could walk among them as though in a forest'.
Chillida bought the Leku site in 1983. After renovating the property and personally installing the works, he opened Chillida Leku to the public in September 2000, just two years before his death. Leku sadly shuttered at the end of 2010. Although officially closed, it was kept in perfect condition, and you could request a private tour for a donation of €230, as I was lucky enough to do in the summer of 2017. Our host was Mikel Chillida, grandson of the artist and one of five people who run the artist's estate. According to Chillida, over the next nine years they hosted around 5,000 such private tours.
In November 2017 after reaching an agreement with Hauser & Wirth, Chillida Leku reopened in April 2019. Thanks to the gallery's support, they added the Pilar Belzunce room (named after Chillida's wife, to recognise her important role in the artist's career), a restaurant and café, museum-standard lighting and insulation as well as better access for people with reduced mobility.
The agreement should safeguard Chillida's legacy, drawing on Hauser & Wirth's experience in artist estate management (they currently represent 36 artist estates). Running an artist's estate is, according to Mikel Chillida, 'a very big responsibility on our shoulders; an honour and a duty. We have so much respect [for Chillida], we have to do it.' He adds that Hauser & Wirth's knowledge and ability to listen is a major benefit.
The Chillida family had spent ten years seeking support from the local Basque government to keep the museum funded and therefore open, but to no avail. Yet after just one year of discussions with Hauser & Wirth, they had an agreement. Says Mikel Chillida: 'It was the perfect time and the perfect gallery'. §
INFORMATION
Eduardo Chillida, until 3 January 2022, Hauser & Wirth Somerset (booking is essential). hauserwirth.com
ADDRESS
Durslade Farm
Dropping Ln
Bruton BA10 0NL
Receive our daily digest of inspiration, escapism and design stories from around the world direct to your inbox
Also known as Picky Nicky, Nick Vinson has contributed to Wallpaper* Magazine for the past 21 years. He runs Vinson&Co, a London-based bureau specialising in creative direction and interiors for the luxury goods industry. As both an expert and fan of Made in Italy, he divides his time between London and Florence and has decades of experience in the industry as a critic, curator and editor.