Eduardo Chillida's Basque museum and sculpture park given a new lease of life
In life, the sculptor never gained the profile he deserved. Now, as Chillida Leku in his former home near Hernani finally reopens with the help of Hauser & Wirth, it's time to reappraise the work of an artist capable of defying gravity and creating a space for peace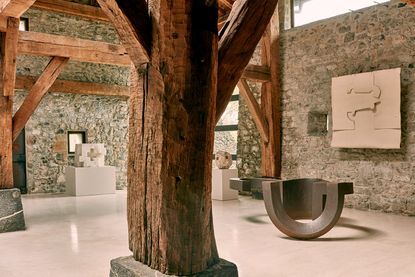 (Image credit: Gonzalo Machado)
The sun is going down over the sea in Donostia. The waves crash below us. A teenage couple, oblivious to the lingering group of journalists nearby, embrace and kiss by the water's edge. Close by them, three lengths of metal rise side-by-side before intertwining in a knotted, slender mesh of solid wrought-iron. Eduardo Chillida called this work a 'besarkada' – a Basque term which translates as 'embrace'. It was created as a tribute to a friend of his, a Donostian artist who tragically died too young.

It captures all that is remarkable of the late Basque sculpture: a graceful, seemingly weightless and nebulous abstraction, uncompromisingly forged in wrought iron, and – through form alone – capable of communicating all kinds of poetic resonances. A short walk towards the cliffs at the edge of cove, and we come across Chillida's Peine del viento (Combs of the Wind). In 1977, Chillida anchored to the cliff rocks a trio of claw-like Corten steel sculptures, through which we can see the horizon-line where sea meets the sky. Chillida saw this as a 'meeting place'. He grew up in the region in an era when the Basque peoples' struggle for an independent identity often succumbed to violence, with the militant separatist group ETA regularly launching terrorist attacks against the Madrid capital.

'He was a very spiritual, very religious man who always believed in a path to peace,' says Nausica Sanchez, author of Eduardo Chillida: Architect of the Void and the curator of Chillida's archive. 'He felt he was Basque and he believed in identifying with a place, but he wasn't for separation. He wanted the two sides to come together, he believed in people working together, and he wanted to believe in peace – because he saw it as a belief.' The Basque government recently ensured the Combs of the Wind have protected status for cultural importance, and will soon nominate it for consideration as a Unesco World Heritage site.
Chillida, a Basque native who was born near the cliff face in Donostia in 1924, made works from clay, granite, alabaster, marble and iron. Yet he was capable of levitating such seemingly solid and monolithic forms, as if they were suddenly in defiance of gravity. He would carve cavities in them, as if they might contain hidden interior worlds, or, via exacting industrial processes, would make them curve, intertwine and amorously combine, making cast iron resemble a blossoming plant, or alabaster look like the peaks of a cloud.

After a brief career as a goalkeeper for Real Sociedad, the local football team, a severe knee injury led Chillida to study architecture in Madrid, where he saw the works of Picasso for the first time. In 1947, he decided to leave architecture for art, and the next year he moved to Paris, where he set up his first studio. In 1950, Chillida returned to the Basque country, married Pilar Belzunce and raised a large family in the nearby village of Hernani. It is here, where Chillida began to work in forged iron with the help of the local blacksmith. He would eventually have an entire forge dedicated to his practice, and become world famous for his ability to create otherworldly, alien-like beings in ironwork – a material most of us would purely associate with industrial structures and vernacular architecture.

In the mid-1980s, Chillida and Pilar bought a dilapidated farmhouse called caserío Zabalaga in Hernani. Chillida spent the last chapter of his life working with the Basque architect Joaquin Montero to convert the 16th-century Basque country house into a sculpture park (see W*55). After a long struggle with Alzheimer's disease, he died in 2002 at the age of 78. By the time of his death, his sculptures were safely installed in front of the Unesco headquarters in Paris, by the Thyssen building in Düsseldorf, and in a courtyard at the World Bank offices in Washington DC.
His home became known locally as Chillida Leku – 'the place of Chillida'. But the sculpture park has only been open by appointment only since January 2011. The partial closure was due to the 'recurring deficit' the park faced during the economic crisis that hit Spain in the mid-noughties. Now, after a further restoration process overseen by Chillida's grandson, Jon Essery Chillida and Argentinian architect Luis Laplace, Chillida Leku has fully reopened to the public. The park's reopening has been supported by the international gallerist Hauser & Wirth, which announced in November 2017 it would represent Chillida's estate (involving his eight children and 26 grandchildren) in the international art world.

Luis Laplace added new ambient and interior lighting to the farmhouse, allowing the alabaster and marble sculptures to glow in the refracted light that slants into the farmhouse as the sun moves across the sky each day. Laplace also built a sustainable restaurant and visitor centre and worked with Dutch landscape-designer Piet Oudolf, who is known for designing the gardens along New York's High Line. 'We wanted to renovate without chasing away the soul of the place,' LaPlace says at the opening of the park. 'If you keep every element as pure as possible, it enhances what is already there without disrupting the natural harmony of the place.'
Laplace brings my attention to the wood masonry that keeps the farmhouse from falling down. A series of beams splay out from a single trunk, like a tree, which in turn support the stone roof. The beams were cut in exactingly precise shapes to slot neatly into the trunk. Built hundreds of years before Chillida took ownership of the farmhouse, it acted as a constant inspiration to his work. 'The structure of the building is exquisite,' Laplace says. 'It dates back to a time when there were very few mechanical elements, so everything is resolved in the wood.' He describes the beams and anchors 'as fitting together like a puzzle'.

The park now displays around 40 monumental sculptures, while the farmhouse is home to an exhibition titled 'Echoes', which shows, chronologically, Chillida's journey through sculpture, from his early drawings on paper and preliminary depictions of the human form in plaster and chamotte through to his most iconic creations. The works lie alongside Chillada's own manuscripts, love letters between himself and Pilar in their early courtship, and photographs of the young artist at work.

The sculptor used text alongside much of his works, although he never collected his thoughts into cogent publications. In Eduardo Chillida: Writings, Nacho Fernandez Rocafort writes: 'Though he never set out to construct a body of thought parallel to his work, his defining perseverance led him to the use of words to give form to his reflections. He almost never wrote in an orderly or systematic fashion; he embraced vitality, which meant that his writings were sporadic, intermittent. He wrote in notebooks, in the margins alongside drawings or sketches, on loose sheets or fragments of paper. These annotations, almost always for his own use, would determine the themes and questions to which he would repeatedly return.'
Chillida once wrote of his work: 'From space, with its brother time, under the persistent pull of gravity, feeling matter as a slower space, I ask myself, with wonder, what do I not know.' The titles used for his works are also often poetic in nature – one of his early iron sculptures was called Yunques de Suenos, or the Anvil of Dreams. Towards the end of his life, Chillida had plans to create another site-specific sculpture: an artificial cave bored into a mountain on a barren island near Lanzarote. Chillida was to call it Monument to Tolerance.

His influence on other artists often goes unnoticed, while other sculptural artists have gone on to enjoy a higher profiles in the international art world. Richard Serra, who has a permanent exhibition at the Bilbao Guggenheim and worldwide fame, visited Chillida at the farmhouse on numerous occasions. Why is Chillida not recognised in the same way? It could be seen something to do with his lifelong allegiance to the Basque region, one that, one imagines, will not always have sat easily with the gatekeepers of Spain's cultural institutions.

But, walking through the bucolic quiet of Chillida Leku, the sculpture's work feels somehow inseparable from the land in which they now sit – as if they have always been here, and always will be. Chillida makes us feel as if such nebulous creations have a natural place in the order of things, as natural and eternal as the sky or the sea or the rocks or the hills and trees and grass. What a beautiful place, and what a triumphant opening, and what, in a time of division and conflict, a poignant reminder of the need to believe in peace.
INFORMATION
For more information, visit the Chillida Leku website
ADDRESS
Chillida Leku
Barrio Jauregui 66
20120 Hernani