How colour, taste and flight have influenced sculptor David Annesley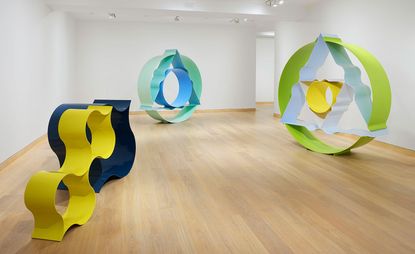 (Image credit: David Annesley.Waddington Custot)
Certain colour combinations make David Annesley feel quite ill. The new generation sculptor, now 84, has always had a physical, kinaesthetic response to colour – a maroon can be 'too maroon', a yellow 'too yellow'. Each of his geometric steel pieces is finely, painstakingly colour-coded, matched and painted, with shade adjustments often ongoing for weeks.

'For David, colour is like taste,' says Waddington Custot gallery director Jacob Twyford ahead of Annesley's sense-testing solo exhibition at the Cork Street location. 'He knows instantly what's wrong, and it has an emotional effect on him.'
Twyford first met Annesley in 1998, ahead of a Waddington Custot exhibition on 1960s sculpture, and they connected instantly. Now, few are as intimately informed or as passionate about Annesley and his work. 'He's the sort of person who tells you he's rather shy, then four hours later, you've only just stopped talking,' says Twyford.

It's a gallery-artist relationship with a 50-year backstory. Born in London and educated in Zimbabwe, before studying under Anthony Caro at St Martin's School of Art, Annesley presented his first solo show in 1966, when Waddington Custot was Waddington Galleries (French art dealer Stephane Custot didn't partner until 2011). The exhibition launched Annesley into an international conversation, resulting in a sell-out solo show at Poindexter Gallery in New York later that year.

Then, in what Twyford attributes to 'changing fashions' and 'life happening', Annesley's career took a different path: teaching. For two decades, while holding a string of successive posts at the Central School of Art and Design and St Martin's, he also managed to maintain a slow but steady stream of international exhibitions. In the nineties, his work returned to Waddington Galleries, at the behest of Twyford, and so beginning an ongoing 20-year relationship.
Six years after the pair first met and set out on a mission to recondition Annesley's original 60s sculptures, there was another, tragic disruption. The Momart fire of 2004 swallowed three of Annesley's newly refurbished works. 'We were utterly heartbroken,' says Twyford. 'Other Waddington works were damaged too, but I had a special connection to David's.'

From the ashes, comes new life, however. After Annesley's 'show-stealing' inclusion at Waddington Custot's 'Colour is' exhibition earlier this year, Twyford set his mind to convincing Annesley that another solo show was not only possible but wholly important. Dubbing it as the 'Phoenix Project', (which caught Annesley's imagination suitably) the pair's mission was redirected: to recreate the three lost works engulfed at Momart. As new, Godroon (1966), Untitled (1969), and Loquat (1965) splay like proud, red-hot feathers in the exhibition today.

The clean white space has been transformed into a firework of colour, and the atmosphere is tense. Each work seems to rock fragilely on its curved edge, as if a clumsy visitor could knock it over at any moment. They seem light, though they're made of welded steel; rigid though filled with a sense of movement. An invisible string plays tug of war between each work, pulling and pushing. The artist describes Three Red Boxes and Circle (1967) as 'Stonehenge on the move'.
Not only do the works appear to move, they change colour as you rotate around the space. Shadows gently fall to create new hues, and the highly polished metal reflects blues and yellows to create greens, so explaining Annesley's commitment to mathematically precise colour-work – they mix and modulate on the go.

But shape, and geometry in particular, is just as important to the artist as colour, explains Twyford. The two work in intimate relation. 'David said once, "The lines of my sculptures can be flown by miniature aeroplanes". If you rolled out a carpet behind a plane in flight – that's the shapes his sculptures make.'

Indeed, Annesley trained as an RAF pilot in the 50s – but it's only recently, with the benefit of hindsight and through conversations with Twyford, that the artist has started to acknowledge just how much these formative experiences of flight influenced his practice. 'I think he learnt a lot from spending so much time up in the sky; floating, weightless, not connected to the ground.' Each work is an aerobatic manoeuvre: Kurumidza barrel rolls, Godroon bunny hops.
The newest, tabletop works – that Annesley created specifically for the exhibition – hover literally, placed at eye-line in the gallery's entrance hall on great, cloud-white shelves. Based on unrealised maquettes the artist made in the 60s, they are timelessly beautiful, 'which comes from their reliance on geometries', says Twyford. 'Geometry doesn't go in and out of fashion – it just is.'

More robust than the large scale works, their colours and shapes are given new momentum – tightly-packed circles within circles are reminiscent of aeroplane engines. They could take off at any moment. Both named Kurumidza (meaning 'to urge on' in Shona, a Bantu language native to Zimbabwe) they are a fitting conclusion – and introduction – to the exhibition, the artist, and his flying colours.
INFORMATION
'Kurumidza' is on view until 6 January 2018. For more information, visit the Waddington Custot website
ADDRESS
Waddington Custot
11-12 Cork Street
London W1S 3LT
Receive our daily digest of inspiration, escapism and design stories from around the world direct to your inbox
Elly Parsons is the Digital Editor of Wallpaper*, where she oversees Wallpaper.com and its social platforms. She has been with the brand since 2015 in various roles, spending time as digital writer – specialising in art, technology and contemporary culture – and as deputy digital editor. She was shortlisted for a PPA Award in 2017, has written extensively for many publications, and has contributed to three books. She is a guest lecturer in digital journalism at Goldsmiths University, London, where she also holds a masters degree in creative writing. Now, her main areas of expertise include content strategy, audience engagement, and social media.