Throwing shade: artists explore the visual language of colour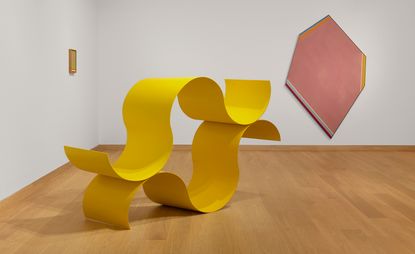 (Image credit: Waddington Custot)
What is colour? The artists of the mid-twentieth century had a few attempts at defining what it could be.

Take David Annesley — one of the artists included in 'Colour is', a group exhibition opened this week at Waddington Custot on Cork Street, London. Interested in the possibilities of colour to insinuate movement, his glorious bright yellow steel sculpture, Orinoco (1965) is something of a show-stealer in the galleries. Yellow is know as the strongest colour psychologically — it can plunge you into the pits of despair if it's the wrong hue — but this yellow is definitely on the optimistic side, confident, joyful and warm.
Sculptors such as Sir Anthony Caro, Paul Feeley and William Tucker also saw colour as way to express energy and direction. Feeley's delightful Dubbe, (1965) red, blue and cream painted on waves of wood, feels as if it might start dancing. For painters, meanwhile, colour invariably became a cerebral pursuit, a way to understand how painting itself works on the eyes and the mind, but the results are often visceral, rather than puzzles of theory.

The publication of Josef Albers' influential tome on colour in 1963 – The Interaction of Colour, still doing the rounds today – had a lot to do with the exuberant investigations into colour in the latter half of the 20th century. In Albers' book, he presents, for example, how the same hue could be perceived entirely differently, depending on which colour is next to it – and considers how the optical effects of 'simultaneous contrast' could apply in paintings.
His interests in contrast and perception are manifest in an early oil painting, on view at Waddington Custot, Study for Homage to the Square: "Persistent", dated 1954-60. 'As basic rules of a language must be practised continually, and therefore are never fixed,' Albers wrote, 'so exercises toward distinct colour effects never are done or over. New and different cases will be discovered time and again.'

The exhibition looks at some of those new cases for understanding the language of colour, in works made as recently as 2017: a colour field painting by 92 year-old painter and poet, Etel Adnan. There is also a pair of rice paper watercolours – Parade I and Parade IX – by Sam Gilliam that prove that colour still has so much to tell us.
As the first signs of spring begin to appear in a London weary of winter, 'Colour is' solicits anticipation for a fresh season and its kaleidoscope of shades.
INFORMATION
'Colour is' is on view until 22 April. For more information, visit the Waddington Custot website (opens in new tab)
ADDRESS
Waddington Custot
11 Cork Street
London W1S 3LT
VIEW GOOGLE MAPS (opens in new tab)
Charlotte Jansen is a journalist and the author of two books on photography, Girl on Girl (2017) and Photography Now (2021). She is commissioning editor at Elephant magazine and has written on contemporary art and culture for The Guardian, the Financial Times, ELLE, the British Journal of Photography, Frieze and Artsy. Jansen is also presenter of Dior Talks podcast series, The Female Gaze.