Observatory of Light: Daniel Buren at Fondation Louis Vuitton, Paris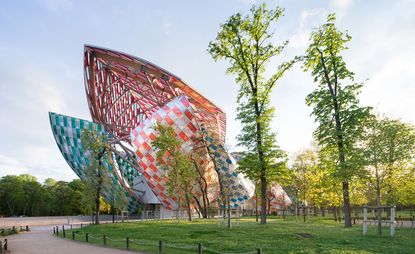 (Image credit: Iwan Baan / Fondation Louis Vuitton)
Few would look at a building as incomparable and architecturally complex as the Fondation Louis Vuitton and see a blank canvas. But in a sense, that's how Frank Gehry arrived at inviting long-time friend Daniel Buren to create an in-situ work that casts new light – and a riot of colour – on the soaring volumes and oblique angles.

Officially revealed this week after five weeks of after-hours installation, Observatory of Light covers all 12 'sails' with a precise grid of filters to produce an effect that is dynamic and ever-changing. Depending on weather, time of day, placement within or outside the building and proximity to the pattern, the experience shifts in dramatic degrees. Sun will paint shadows; greyness will emphasise the geometry. Whereas the overlapping panels viewed up close become chaotic, from a distance, the building becomes a deconstructed rainbow. Wallpaper* visited the museum on a rainy afternoon when the light remained flat; yet the tones of dandelion, azure blue, emerald and rose made the giant partitions feel like vibrant shields.

For Buren, who says he is always inclined towards 'a multitude of different aspects', the beauty of this project came down to the interior-exterior relationship between the upper terraces and enveloping expanses of glass – and how he could subsequently introduce the sky as an active participant. Of the 3,528 total panes, 1,472 are covered in transparent PVC film and another 287 boast white strips that run parallel to the ground. Buren selected 13 colours among an existing palette of ORACAL 8300 filters.

While Buren's penchant for tiling would seem to share the same vocabulary as the iconic Louis Vuitton 'Damier' pattern – a concept not lost on Marc Jacobs, who asked the artist to create the maison's runway set for the S/S 2013 collection – he insists the checkered motif has more to do with the interplay of sky. For comparison, covering the surface in solid colour would prove impactful yet preclude the same graphic dance. As Suzanne Pagé, the Fondation's artistic director, points out in a video detailing the project, '[Daniel] has an exceptional sense of visual strategy'.

Like several other large-scale works by Buren, this one offers an enchanting accessibility; of course, the experience is heightened from within the Fondation Louis Vuitton, but even those passing by can admire its lively statement. This, combined with the openness of interpretation is what he continues to find so satisfying. 'One of the most important things is to give to people the freedom to see the way they'd like,' he says.
INFORMATION
Observatory of Light will be on view for an unspecified period of time. For more information, visit the Fondation Louis Vuitton's website (opens in new tab)
ADDRESS
Fondation Louis Vuitton
8, avenue du Mahatma Gandhi
Bois de Boulogne
75116 Paris
VIEW GOOGLE MAPS (opens in new tab)