The changing faces of Cindy Sherman
At Fondation Louis Vuitton, a landmark retrospective looks back on 45 years of identity-probing work by American artist Cindy Sherman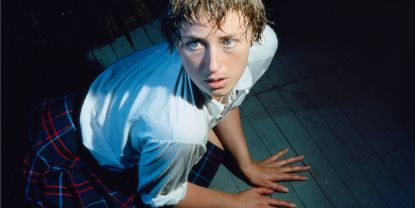 (Image credit: Courtesy of the artist and Metro Pictures, New York)
Few artists have predicted the future quite like Cindy Sherman. Before social media, before face filters, before selfies and RuPaul's Drag Race, her chameleon-like portraits summoned us to interrogate identity and its construction. Manhattan's ageing socialites in Society Portraits (2008), monstrous femininity in Sex Pictures (1992), Madonna with child in History Portraits (1988-1990) are just some of the many faces that stare back in a landmark new exhibition of Sherman's portraits at the Fondation Louis Vuitton (opens in new tab) in Paris, which runs until January 2021.

Designed in close collaboration with Sherman, the retrospective is the largest ever display of the artist's works in Europe, bringing together 170 of her portraits from eighteen series created between 1975 to 2020 including Rear Screen Projections (1980), Disasters (1986 -1987), Clowns (2003 - 2004), Murals (2010) and Collages (2015). Shown alongside newer full-colour works such as Headshots (2000) and Flappers (2016-2018), the images from her breakthrough series Untitled Film Stills take on a new significance. Unnerving, compelling and enigmatic in equal measure, the 70 black and white portraits shot between 1977 and 1980, imagined a series of screen sirens and cinematic archetypes from an unknown, unnamed film. Just like today's social media influencers, Sherman plays the role of make-up artist, director, stylist, props master, photographer and model, but as with all of her works, it is the absence of the artist herself that continues to fascinate.
When asked if she considers her works to be self-portraits Sherman has said: 'Technically, maybe they are, but I don't see these characters as myself'. Indeed it is our imagined selves, fabled narratives, vanity and vulnerability that we locate in her works, familiar and disconcerting. The scenography of the exhibition designed by architect Marco Palmieri amplifies this, with mirrors placed along the exhibition path and a sequence of circular spaces surrounding each of the artist's series, enveloping the viewers as if they were facing a multi-faceted vanity mirror. The colour palette also is derived from the shades the artist uses as make-up: bright yellow from her eyeshadow, deep pink from a lipstick.

Not surprisingly, Instagram has become a natural home for Sherman. Her account, previously private and then made public in 2017, features personal images alongside familiar character portraits and eerie, augmented selfies where she experiments with face filters. The retrospective brings this to life with a room dedicated to her most recent series Tapestries which debuted at Art Basel Miami in 2019. Tapestries sees Sherman explore a new, non-photographic medium, taking manipulated images from the artist's own Instagram feed and printing them in the weft of a weave combining cotton, wool, acrylic and sometimes silk. Transposing the digital image onto textiles sees the images distort and pixelate, creating an uncanny continuum between the virtual and material worlds.
RELATED STORY
For curator and artistic director of the Fondation Louis Vuitton, Suzanne Pagé, this embrace of modern technology and techniques locates Sherman within a distinctly female trajectory in art history. 'Her "games with identity" have often been placed in a tradition that goes from the Comtesse de Castiglione to Claude Cahun and Ana Mendieta, among others,' Pagé explains in the exhibition catalogue: 'For so long, women were excluded from the 'noble' territory of painting, which was already taken over, and the few who did venture there seem like survivors. Forced to work on the margins, they developed a particular appetite for appropriating new media.' Beginning as a painter and then turning to photography early on in her artistic career, Sherman has transitioned from analogue to digital in an ongoing process. 'In doing so, she has constantly reinvented her medium, being quick to combine the edgiest tools (Photoshop, Instagram) with traditional supports like tapestry in a way that ignores rules or prohibitions.'

For Pagé, who collaborated closely with the artist on the retrospective and Crossing Views – a concurrent exhibition of portraits and self-portraits from the Fondation's Collection – the artist has effectively created her own medium, unlike anything else being done today. 'She imposes her total singularity, giving herself up entirely while merely lending herself to the game. Although she is supposed not to be there, to be hiding, she says a great deal about us with a frontal lucidity that touches us all. She never blinks, either at the world or at herself.'
INFORMATION
Cindy Sherman's retrospective at Fondation Louis Vuitton runs until 3 January 2021. fondationlouisvuitton.fr
ADDRESS
Fondation Louis Vuitton
8 Avenue du Mahatma Gandhi
75116 Paris
VIEW GOOGLE MAPS (opens in new tab)