Dandyism, race and masculinity collide at The Photographers' Gallery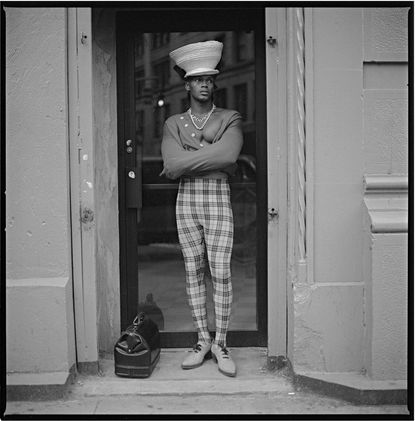 (Image credit: Jeffrey Henson)
When Guinness launched an advertisement and documentary two years ago featuring Congolese blue-collar workers transforming into a dashing flock of unlikely fashion stars, the world was captivated. The Society of Elegant Persons of the Congo, or 'Sapeurs' as they are known, is just one faction of black dandyism, a sartorial subculture with less than savoury origins in slave culture. Today, dandyism has become an empowering symbol of race and identity within the black community.

This fascinating worldwide phenomenon is at the centre of a new exhibition curated by writer and broadcaster Ekow Eshun, opening today at The Photographers' Gallery in London. 'Made You Look: Dandyism and Black Masculinity' spans studio and street photographs, celebrating dandies from Bamako to London. Eshun explains, 'The dictionary definition of a dandy is a man "unduly concerned with looking stylish and fashionable." But dandyism, as practised by the likes of Lord Byron, Oscar Wilde and Charles Baudelaire, is also about using dress to deliberately flout conventional notions of class, taste, gender and sexuality.'

Fashion is by its very nature a form of self-conscious performance – a ritual of adornment and projection of one's identity. Here, the dandies are both spectacle and stars, bedecked in brogues, dickie bows and flares; vivid African prints splashed over European-style suits. In 'Made You Look', each photographer explores different facets of the 'radical personal politics' of black dandyism. 'For the most part the men featured in the show aren't wearing the finest of clothes. They seem less concerned with what they wear than with how they wear it,' says the curator.

British photographer Colin Jones' remarkable 'Black House' series centres on the 'careful and discreetly extravagant styling' of marginalised young men in a north London hostel on the Holloway Road. Jones has said: 'Over the four years of my visiting the "Black House", the reality of what I had been doing was only made clear to me when I was asked: "Which part of America did you take these photographs?" "Holloway Road, about three miles from where we were both standing." I now realise that it could have been anywhere in the world where a small community is threatened and afraid.'

Liz Johnson Artur, meanwhile, has spent the past 30 years charting dandies in Jamaica and Detroit, while Jeffrey Henson Scales turns his lens on dandy culture in New York. Artist Isaac Julien investigates notions of sexuality and gender with stills from his 1989 film, Looking for Langston, which explores black gay desire during the liberal explosion of the Harlem Renaissance in the 1920s. Kristin-Lee Moolman explores modern dandyism with newer works captured in South Africa, casting androgynous characters and dismantling stereotypes.

For Eshun, it's a topic that hits particularly close to home. 'As a teenager having to grapple for the first time with the force of the white gaze, I'd ask myself this question: "how do you live without fear or debilitating anger in a world where you're reminded always that your body doesn't belong to you?"', he says. 'The answer, as proposed by the works in [the exhibition], is to demand to be seen on your own terms, via the style and attitude that announces your ambitions and desires, your sense of pride and inner belief.'

Eshun adds, 'It is about confounding expectations about how black men should look or carry themselves in order to establish a place of personal freedom; a place beyond the white gaze, where the black body is a site of liberation not oppression.' There's much to rue about the lack of diversity in fashion – but exhibitions like this one remind us we also have plenty to celebrate.
Dandies are both spectacle and stars, bedecked in brogues, dickie bows and flares; vivid African prints splashed over European-style suits. Pictured: Self Portrait from '70's Lifestyle', by Samuel Fosso, 1973–1977. Courtesy the artist and JM Patras/ Deutsche Bank Art Collection
INFORMATION
'Made You Look: Dandyism and Black Masculinity' runs until 25 September. For more information, visit The Photographers' Gallery website
ADDRESS
The Photographers' Gallery
16–18 Ramillies Street
London, W1F 7LW
Receive our daily digest of inspiration, escapism and design stories from around the world direct to your inbox