In the Piedmont hills, a collector celebrates the modern history of Italian photography
Stalwart art patron Patrizia Sandretto Re Rebaudengo opens up about a reprisal of her foundation's first photography exhibition, 20 years after it launched the careers of artists who are leading lights in their field today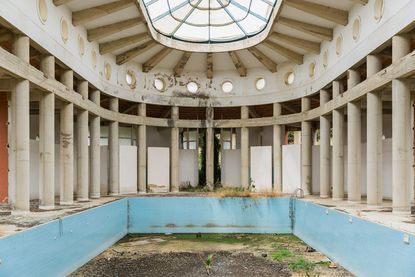 (Image credit: Giuliano Severini)
I meet Patrizia Sandretto Re Rebaudengo at her turn-of-the-century home in the centre of Turin. In the vaulted hallway, it's difficult to miss the squirrel slumped over a yellow table, a gun on the marble floor at its feet. She bought Bidibidobidiboo, the name of the poor, taxidermy squirrel from Maurizio Cattelan, a wooden furniture-maker turned artist, earlier in his career, when few beyond Italy's small artistic circle had heard of him.

Cattelan is now one of Italy's most renowned contemporary artists, perhaps most famous for Him, a cartoonish sculpture of Adolf Hitler kneeling in prayer, which was famously exhibited in a Warsaw courtyard known for its connections to the Warsaw Ghetto. The dead squirrel is perhaps indicative of the role Sandretto Re Rebaudengo has in this city, and in Italy and Europe as a whole. Close by, the squirrel hangs early untitled film stills by Cindy Sherman – photographs that garnered a certain level of respect when Sandretto Re Rebaudengo decided to invest in them, but nowhere close to the recognition they receive today.
Elsewhere in the home, I'm shown a monumental collage of hundreds of images of body parts by Annette Messager, who is currently working on a large-scale film installation for the Philadelphia Museum of Art, in collaboration with Rachel Rose, a young American artist. Perhaps the most compelling is the sculptures of American artist Josh Kline. Lying on the floor of Sandretto Re Rebaudengo's library is a woman in high-heels and a suit. She is in the foetal position, staring numbly straight ahead, and encased in a plastic bag which is securely tied at the neck. It's a shocking piece of work; not the kind of thing that would excite a lot of prospective collectors looking to augment their home. But she invested heavily in Kline and he's now one of the most talked-about young artists on the East Coast, receiving critical acclaim for his work at this year's Whitney Biennale.

When Sandretto Re Rebaudengo began collecting art in 1992, there was virtually no institutional support for contemporary art in Italy – Rome opened the country's first public contemporary art institution as late as 2010. But, in no small part thanks to her commitment to supporting the work of emerging artists, Turin – the city that birthed the arte povera movement of the 1960s – has reemerged as one of Europe's capitals of vanguard art and, along with neighbouring Milan, the undoubted engine room of Italy.
Yet it's easy to see why she is known for an ability to make artists feel at ease in her company. Most people can only dream of calling such a grand home their place of residence, but, thanks to Sandretto Re Rebaudengo, many artists have been invited to use this place as a second home. It is here that they stay while working on commissions she has underwritten, and attendance at her large dinner parties is essential. She began to collect when she was an economics student in London. She accompanied her friend Nicholas Logsdail, owner of Lisson Gallery, to the studio of a young Anish Kapoor, who had just won the newly reworked Turner Prize in 1991.

Without knowing much about art at the time, she found herself drawn to a sculpture made of three bulbs covered in red, yellow and blue pigment. She left the studio as the new owner of the sculpture. One of the most dedicated art collections in Europe had officially began; one that, today, has swelled to more than 1,000 separate works. And she has developed a reputation not just as a collector, but as a patron; one willing to support artist's visions at their most ambitious. An early example includes the funding of Doug Aitken's New Ocean (2001), a film and installation she co-produced with London's Serpentine Gallery. More recently, over the winter of 2015 she gave the Argentinean sculptor Adrián Villar Rojas carte blanche to create Rinascimento, a site-specific installation which launched that year at the foundation.

'I learnt about art by visiting artists in their studios, getting to know them, having a relationship with them,' she tells me. Sandretto Re Rebaudengo was in London in the years after Damien Hirst's infamous 'Freeze' exhibition, and in the early years of Nicholas Serota directorship of Tate. It was a burgeoning contemporary art scene, perhaps the vibrant anywhere in the world. Being in the centre of it, getting to know the key players, helped her 'see behind the work', she says. 'I learnt not to be afraid of what I didn't understand right away.'
By 1995, Sandretto Re Rebaudengo had established a foundation. But she needed a space to show it. We pile into a car and drive through the Turin suburbs and into the mountainous hills of Piedmont. A winding road takes us up to Guarene d'Alba, a beautiful Roero hamlet surrounded by pear trees, olive groves and vineyards. In its midst is the 18th-century Palazzo Re Rebaudengo, the historic country manor of the family of Agostino, her husband, who runs a business engaged in renewable technologies.

The palazzo was not being used, and was falling into disrepair. Sandretto Re Rebaudengo set about renovating it and turning the property into a permanent gallery space, now used for rotating exhibitions, educational programmes, residencies and the production of international projects. Then, in 2002, the London-based Italian architect Claudio Silvestrin was invited to design a new 3,500 sq m permanent exhibition space on the site of Turin's old Fergat factory, which was once used to build Italian cars, but had been shuttered during an economic downturn.

In 1999, Sandretto Re Rebaudengo used the palazzo to launch its first photography exhibition – a group show of 25 artists who have gone on to be Italy's leading photographers. I'm here to view a part-reprisal of that show, titled 'Da Guarene all'Etna 2019 – Boiling Projects'. Today, she is exhibiting works by artists including Luca Campigotto, Paola De Pietri, Alessandra Spranzi, Francesco Jodice, Antonio Biasiucci, Pino Musi, Carmelo Nicosia, Daniele De Lonti, Luca Andreoni, Tancredi Mangano and Antonio Fortugno, who, when first exhibited in 1999, were considered 'emerging artists', and, today, are the points of reference for the younger generations of Italian photographers.
Italian photography has a long and proud tradition, but has been somewhat overlooked by the rest of Europe. The original exhibition was inspired by the work of Luigi Ghirri, the late architectural photographer who, working in the lineage of Lewis Baltz, Ed Ruscha and Stephen Shore, photographed a side of Italy little seen before – the suburbs, the margins of the city, the urban detritus.

As a current exhibition at London's Thomas Dane Gallery attests, Ghirri has become a renowned name – but an isolated one. This exhibition, which features Ghirri, contextualises his work amid a wider Italian scene, both from the 1990s and the present day, and ranging from landscape shots to performative portraits, from collaborations with local schoolchildren to austere architectural studies.

Sandretto Re Rebaudengo uses the term 'double mapping' to describe the works on display here: 'Of the Italian landscape, testifying to its changes, and of the photographic language of the young artists of our country, investigating its evolution,' she says. That it does – an evolution Turin can be proud of.
INFORMATION
'Da Guarene all'Etna 2019 – Boiling Projects', until 17 November, Palazzo Re Rebaudengo. fsrr.org
ADDRESS
Palazzo Re Rebaudengo
Guarene d'Alba
Cuneo