Christian Marclay pays homage to Edvard Munch with new series of woodcuts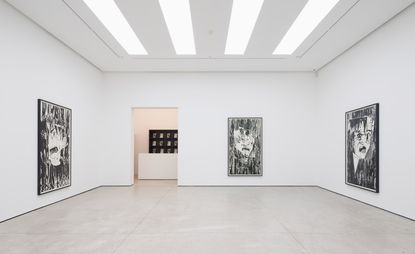 (Image credit: Photography: Kit Min Lee)
Those familiar with London-based artist Christian Marclay's impressive body of work will hardly be surprised by his new collection of black and white woodblock prints that masterfully blend collage, digital technology and traditional printmaking.

The American-born, Swiss-educated artist and former Wallpaper* Guest Editor has a reputation for cutting and pasting fragments from still images and video to sound, to create highly original pieces. His best-known work, The Clock (2010), is a mesmerising 24-hour loop of thousands of film clips and television shows that reflect the passage of time.

It has, however, been a mixed blessing: so successful that all other works are seen in its shadow. 'Of course, there are worse problems,' Marclay laughs. 'It is great that people pay attention to this, but I am trying to create something new and different.'

For the works at White Cube's Hong Kong outpost, Marclay cut slivers of images from Japanese manga magazines and American comics to create a face caught mid-scream. The small, detailed collage is scanned, enlarged and carved into plywood or woodchip composite boards using a computer controlled carving machine. The woodcuts are printed with an etching press.

'The scream is the most basic human sound, the first we make when we are born. Enlarging the collage makes the scream louder, even if you can't hear it,' Marclay says. The artist sees fragments as tools, a vocabulary to express himself in, although the collage-making is largely instinctive. 'The collage is revealed as I am making it. I let the material tell me everything, so I never know what I will find.'

The process may be laborious but the results are sublime, combining the graphic nature of manga that still retain a trace of having been cut, and the grain of wood in an 'onomatopoeic' image.

Marclay says he enjoys the making procedure: 'There are so many stages in the process and interesting accidents, and the there is the magical moment when you lift the paper at the end. You can never be completely in control and I like that.'

Inspiration for the series came from Edvard Munch's iconic lithograph print The Scream (1895). 'It had a huge influence on so many people and I like the way he allowed the wood to be present,' he explains.

For his own works, Marclay looks for a piece of wood that works with the print, matching it to the image so that natural knots appear as eyes or ears. 'In some, you can see how the wood grain is like sound waves,' he adds.

Interestingly, the standout pieces are a pair of prints on composite wood without any distinct grain but with a grainy texture that adds an unexpected tension between the background and the image. This is the 62-year old artist's first exhibition in Hong Kong, and he created all the pieces displayed especially for the show.
INFORMATION
'Screams' is on view until 13 January 2018. For more information, visit the White Cube website (opens in new tab)
ADDRESS
White Cube Hong Kong
50 Connaught Road Central
Hong Kong