Queer photographers challenge social norms in family-making
In an exhibition at New York's Leslie-Lohman Museum of Art, eight artists of colour explore how 'chosen families' in LGBTQ+ communities can challenge conventions and create a spirit of queer kinship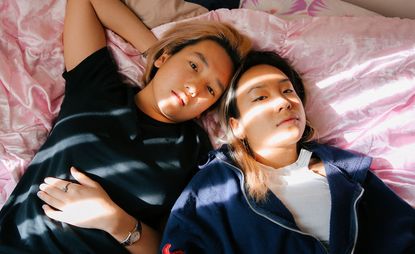 (Image credit: Mengwen Cao)
Who is your family? Is it the people you inherit, or the community you choose?

'Chosen', an exhibition at New York's Leslie-Lohman Museum of Art coinciding with Pride Month 2021, highlights eight queer emerging artists of colour who explore how 'chosen families' in LGBTQ+ communities challenge the social norms and biological imperatives of heteronormative family-making.

'We all seek love, nurturing, and loyalty, but queer people cannot always assume this from their inherited families,' says Tariq Dixon, exhibition curator and founder of TRNK Editions, a gallery platform for emerging artists. 'The exhibition celebrates the ways in which queer communities have broadened how – and with whom – we share these connections.'
Family norms: an alternative view
The exhibition's focus on alternative or surrogate families created by POC LGBTQ+ community members was a deliberate choice. 'This past year was difficult for nearly everyone,' says Dixon. 'But for many, it was also a time for serious introspection. The topic of "chosen families" felt especially timely since we've all been reminded of the necessity of intimacy, connection, and support systems.'

'Chosen' is a glorious and diverse exploration of the struggle of establishing family for the LGBTQ+ community. Open until 1 August, the show rotates between artists Myles Loftin, Coyote Park, Clifford Price King, Groana Melendez, Golden, Alexis Ruiseco-Lombero, Mengwen Cao and Ka-Man Tse. Through their unique works, the artists depict the adoption of an alternative or chosen family, and often introduce autobiographical elements that turn their lenses back upon themselves.

In the context of the tumultuous events of the last year and a half, the show provides an inside view of what Dixon calls the 'communal spirit [of] queer kinship' and the resilience of the LGBTQ+ community during a particularly difficult time.
America has experienced not only the pandemic but also uprisings across the country decrying police violence and racial discrimination. The LGBTQ+ community – already historically marginalised – was disproportionately affected by the pandemic's economic toll; approximately five million Americans who identify as LGBTQ+ were in job categories that were especially disrupted, according to a Human Rights Campaign Foundation issue brief published last year.

This was coupled with the ongoing battle over recognition of individual and family rights, in which certain religious organisations chose to exclude those deemed to live in ways inconsistent with the groups' values. In the recent Supreme Court case, Fulton v City of Philadelphia, justices sided with a Catholic foster care agency over its policy to refuse same-sex couples as foster parents, citing the US constitution's provisions protecting freedom of religion.

'Ultimately, "Chosen" is about the human condition,' says Dixon, '[and the] changes that benefit queer and non-queer people alike. Hopefully, as legislators and the public make decisions that impact queer livelihoods, they embrace how we're simply striving to make the world more loving and inclusive. Period.'
'Beauty and love is our birthright'
Growing up queer in China, Mengwen Cao experienced a lot of shame around their identity. 'There's a huge lack of portrayal of queer folks just as they are,' Cao says. 'The media tends to feature extreme stories.'

Cao's Kin is part of a series called Liminal Space, which according to the artist, explores the everyday moments of queer people of colour's lives. For the series, Cao photographed friends. 'I see beauty and tenderness when I spend quality time with them. My intention for these images is not to yell but to invite viewers to sit with them and experience the presence of these lovely humans.' Kin captures Cao's friends, Leslie and Caroline, on a bed, lying on luminous pink satin sheets with bits of sunlight shining on them at an angle. The subjects appear comfortable in their own skin, relaxed and innocent.

'I am trying to create images that can make my younger self realise: I can be like that, and it's OK,' says Cao. 'Beauty and love is our birthright.'
Like Cao, Clifford Prince King's photography mirrors his own experience with displays of his life. Based in Los Angeles, King's work highlights his own intimate relationships against everyday backdrops, with the intent of integrating his experience facing the challenges of being both queer and Black in America.

By 'simply living', King says, taking a step back and seeing his work from an outside perspective, he realised that these experiences and actions were worth documenting. 'This resonates with the LGBTQ+ [community] because every day is a battle and everything we do is an act of self-preservation and the right to live freely.'
Documenting the body
Alexis Ruiseco-Lombera's world-making process is informed by their experience as a non-binary Cuban immigrant living in exile. 'It becomes the source material for its form, its voice, and its gesture,' the artist says. Ruiseco-Lombera is a writer, performer and director whose photographs bring life to the marginalised but sizable queer community of Cuba. 'I'm creating signals to solidify the queer Cuban body into the nation's body and its cultural imagination.'
'It is imperative to tell my story and the stories of queer people, people who look and sound and live like me,' Ruiseco-Lombera says, 'and that we are the ones to document our own narratives.'

Coyote Park also documents his own body, and home environment with his loved ones and chosen family. According to Park, the body is a vessel for lived experiences. Queer and trans people of colour have generational and cultural histories that their bodies carry, Park says. For the LGBTQ+ community, this memory holds 'love, joy, trauma, pain, and a range of experiences and emotions that our body has honoured when institutions and governments have not'.
In Morning After, Park is depicted nude, intertwined with his partner in bed, as morning sunlight pierces the room with a golden glow. 'My work is a memory and a keepsake of that feeling,' Park says. 'I think that feeling of being safe with a lover, that warmth, is resonant in the LGBTQ+ community because we are always looking for that, and it is possible.'

Reflecting on the unique challenges in society as a mixed-race person of Korean, German, Yurok/Native American ancestry, Park says, 'If I want to see people that come from my cultural background, I have to look in a mirror.'

He adds, 'I want my work to be a reminder that our lives and our love for ourselves, our queer family, is real.'
INFORMATION
'Chosen', until 1 August, Leslie-Lohman Museum of Art. leslielohman.org
Limited-edition prints, starting at $150, are available to purchase via TRNK Editions. trnk-nyc.com
ADDRESS
Leslie-Lohman Museum of Art
26 Wooster St
New York, NY 10013