Seeing red: a new monograph gets under the skin of installation artist Chiharu Shiota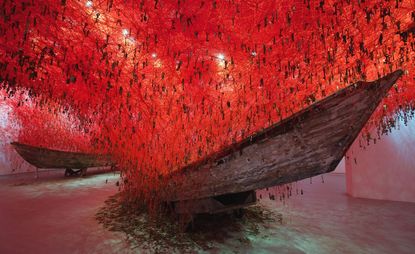 (Image credit: Courtesy of the artist and VG Bild-Kunst, Bonn 2017)
Under The Skin is the first monograph documenting the work of Chiharu Shiota – the renowned Osaka-born artist, celebrated for her monumental maze-like installations that often look like a bloodbath has taken place in the gallery.

There's nothing about Shiota's work that speaks of a particular time, culture or belief – and as 300 images and texts on the artist and her archive by Tereza de Arruda, Pascal Hess, Olaf Reis elucidate – that ambivalence is part of her schtick. When the artist moved away from Japan, she left the traditions of conventional painting that she'd studied behind, trying to come up with an entirely new visual language, that included performance, and incorporated symbolic items such as shoes, suitcases, keys and clothes – and more recently, boats.

Tracing the trajectory of Shiota's work since she arrived in Berlin 20 years ago, the monograph documents early performances such as Becoming Painting (1994), for which the artist shaved her head and doused herself in toxic red paint that remained on her skin for months afterwards.
It was only in 2015 that Shiota really exploded on the international art scene, when she represented Japan at the Venice Biennale – the first time a Japanese artist living outside of the country had been selected. She exhibited The Key in the Hand, a deeply personal work that was the artist's response to the deaths of several close friends and relatives.

Other more recent works chart her movement towards very large, ephemeral-looking installation work, such as Uncertain Journey (presented at Blain|Southern in Berlin last year) a tangle of strident red yarn, stretched across the gallery, creating a womb-like structure, claustrophobic and protective.

If Shiota's importance has been somewhat underestimated so far, this monograph captures the unmistakable presence and power of her work – you'll find yourself tangled in her infinite webs.
INFORMATION
Under the Skin, €48, published by Hatje Cantz (opens in new tab)
Charlotte Jansen is a journalist and the author of two books on photography, Girl on Girl (2017) and Photography Now (2021). She is commissioning editor at Elephant magazine and has written on contemporary art and culture for The Guardian, the Financial Times, ELLE, the British Journal of Photography, Frieze and Artsy. Jansen is also presenter of Dior Talks podcast series, The Female Gaze.