Cartier-Bresson: A Question of Colour' at Somerset House, London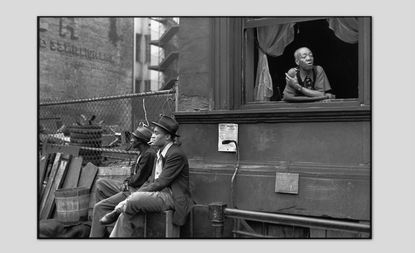 (Image credit: Courtesy: Magnum Photos; Fondation Henri Cartier-Bresson)
Has any photographer had a greater impact than the legendary Henri Cartier-Bresson on the generations of artists who have since made black-and-white their signature style?

Perhaps not. Yet in endorsing black and white - and only black and white (Cartier-Bresson was famously unfond of Kodachrome) - the godfather of photojournalism also spurred on legions of photographers to prove him wrong.

Since the ascendance of colour photography in the 1950s, photographers have built illustrious careers on capturing what Cartier-Bresson termed 'the decisive moment' in the broad palette of their day. Some argue they've conveyed the moment if not more effectively, then more richly. C-B disciples might disagree.

The debate continues in London at Somerset House's 'Cartier-Bresson: A question of colour', where 10 rare C-B black-and-whites never before displayed in the UK are mounted alongside 75 colour scenes from the master's day to the present. It is the inaugural show from Positive View, a young foundation that raises funds through gallery exhibitions to support photography education for disadvantage youths.

Curator William A Ewing has selected works from 15 photographers devoted to colour - artists like Austrian Ernst Haas, a personal friend of Cartier-Bresson's, and American Helen Levitt, their contemporary, all the way down to Robert Walker and Melanie Einzig, who came of age in the 21st century.

Their snapshots are interspersed over five rooms in Somerset House's South Wing with Cartier-Bresson's gelatine silver postcards of downtrodden mid-century America, decisive moments during which both nothing and everything appear to be happening.

'Colour is for painters,' Cartier-Bresson famously said. Many could argue that statement is thoroughly disproved this winter at Somerset House. To what extent is up for debate.
ADDRESS
Somerset House
Terrace Rooms & Courtyard Rooms
Strand
London WC2R 1LA