The grand-père of photojournalism: Henri Cartier-Bresson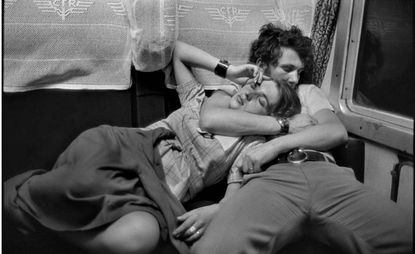 (Image credit: press)
By the time he died in 2004 at 96, Henri Cartier-Bresson (opens in new tab) was long established as the grand-père of photo-journalism and street photography, the man of the Decisive Moment. That book, published in 1954 with a cover by Matisse, explored his idea that the best photographs capture something essential, something that spoke of a larger truth. And that you had to wait to get the proper alignment of people in a particular place.

'To take a photograph means to recognise, simultaneously and within a fraction of a second' both the fact itself and the rigorous organisation of visually perceived forms that give it meaning,' said Cartier-Bresson, who was also the focus of Aperture Foundation's (opens in new tab) updated Masters of Photography (opens in new tab) book series, which relaunched in March this year. 'It is putting one head, one eye, and one heart on the same axis.'

Born in a village near Paris, Cartier-Bresson studied under the cubist artist André Lhote and then went on to Cambridge to read art and literature. In 1930, after seeing the work of Eugène Atget and Man Ray, he became interested in photography. He went to Africa to hunt but soon decided that shooting with a camera was a more humane and useful engagement with the world.

In 1933 he bought a small (and silent) 35-mm Leica rangefinder camera, covering it in black tape to make it even less visible, and began to travel across Europe and beyond. By the mid-30s, he'd already had shows in New York, Madrid and Mexico. He shot documentaries during the Spanish Civil War and also managed to fit in working as an assistant to the film director Jean Renoir.

Cartier-Bresson was taken prisoner during the Second World War but escaped and became part of the French underground's photographic unit (he buried his Leica in a field in Vosges during the war but managed to recover it once fighting was over).

In 1947 he was given a one-man show at the Museum of Modern Art in New York – though, the story goes, MoMA assumed that he was dead when they planned the show. In the same year, he founded the Magnum Photos agency with Robert Capa and others. And then again he moved on, to India, China, Indonesia, Egypt, Russia, Mexico and Cuba – always with his Leica, shooting in his slow, considered way – and finally back to Paris to cover the student revolts of May 1968.

Then he moved on again, or back again, to film-making with movies such as Impressions of California (1969) and Southern Exposures (1971) and, largely abandoning the camera, back further again to drawing and painting. Cartier-Bresson had little interest in the technicalities or technology of photography. He never did his own printing and eschewed cropping or other out-of-camera editing. For him, the camera was a notebook, something to take with you when you saw new things. And when he slowed to a stop, he had little need for it.