Bosco Sodi's message of post-pandemic hope in New York City
The Mexican artist takes over Manhattan's Washington Square Park on Sunday 23 May, giving away 439 small clay spheres embedded with seeds to spread a message of hope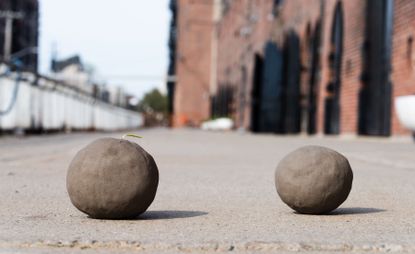 (Image credit: John Rohrer)
As the sun rises over Manhattan tomorrow, Mexican artist Bosco Sodi will begin to install 439 small-scale clay spheres at Washington Square Park. Each about the size of a grapefruit, these pieces are the building blocks of his new public artwork and performance, titled Tabula Rasa. Over the course of the day, Sodi will invite members of the general public to claim a piece of the installation, until, at dusk, the last piece will be taken away.

The clay spheres won't exactly offer a visual spectacle, but behind their humble appearance is a message of hope. The number 439 refers to the number of days since New York City was first struck by the Covid-19 pandemic, and the installation takes place just as the city roars back to life, with the giveaway element highlighting how solidarity and mutual assistance have been vital to survival and recovery.
The choice of location, too, is significant – Washington Square Park has long been a locus for activism and social justice in the city, having hosted everything from protests against Nazism and the Vietnam War, to demonstrations against the Trump Administration's immigration policies, and to the Black Lives Matter rallies of 2020. It was here that Sodi presented his public installation Muro in September 2017, a wall of 1,600 made-in-Mexico clay bricks that passers-by were invited to dismantle and take home, a symbol of how political and mental hurdles can be overcome by a united community.
RELATED STORY
Artist Bosco Sodi, photographed in his Brooklyn studio on 18 September, in front of an untitled white painting now on view at his solo exhibition, 'Vers l'Espagne' at Kasmin Gallery, New York
Then as now, Sodi created his artwork using clay from his Casa Wabi art centre in Puerto Escondido, Mexico. Whereas the clay bricks used in Muro (and the monumental sculptures for which Sodi is known) are fired in a traditional kiln to achieve terracotta-hued, cracked and scorched surfaces, the constituent clay spheres of Tabula Rasa have been left deliberately unfired. Instead, each contains three types of seed – corn, squash and bean, symbiotic species that have a special place in Central American agriculture. The spheres' new owners are encouraged to plant them in soil, so the seeds will germinate, nourish one another, and continue on into the cycle of life and death.

As the title Tabula Rasa (Latin for 'clean slate') suggests, this is a time for New York to start afresh, unencumbered by the scars of the past. Though transitory, Sodi's installation will live on in the backyards and balconies of New Yorkers, celebrating transformation and creative possibility, and offering a poetic reminder that life will always prevail.
INFORMATION
Tabula Rasa is at Washington Square Park, New York from dawn to dusk on Sunday, 23 May 2021, kasmingallery.com
TF has been editor of Wallpaper* since December 2020. He is responsible for our monthly print magazine, planning, commissioning, editing and writing long-lead content across all our content pillars. He also plays a leading role in multi-channel editorial franchises, such as our annual Design Awards, Guest Editor takeovers and Next Generation series. He aims to create world-class, visually-driven content while championing diversity, international representation and social impact. TF joined Wallpaper* as an intern in January 2013, and served as its commissioning editor from 2017-20, winning a 30 under 30 New Talent Award from the Professional Publishers' Association. Born and raised in Hong Kong, he holds an undergraduate degree in history from Princeton University.
With contributions from