Book: 'Wall', by Ralph Pucci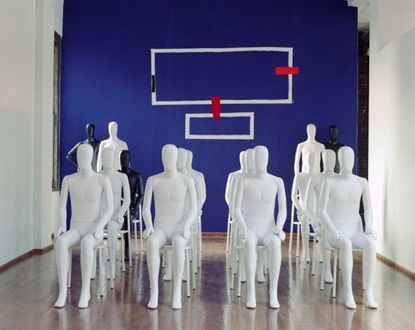 (Image credit: TBC)
Design maven Ralph Pucci has launched a new book celebrating the influential, ever-changing entry wall in his West 18th Street Gallery in New York City, following on from his first tome, Show, which looked at the furniture and mannequins exhibited in the space.
Successfully fusing the worlds of art, design and fashion, Pucci has over the course of two decades, used his showroom wall as a revolving canvas on which invited artists are free to express themselves. 'Whenever we are developing and creating a new collection to present, whether furniture, mannequins, sculpture, or art, I always envision the possibilities for The Wall,' he explains.
Over the years, everyone from furniture designers Patrick Naggar and Vladimir Kagan to photographer Diego Uchitel and artists Peter Astrom and Philippe Hiquily have made their (temporary) mark on 'The Wall'. Its illustrious history has been captured by Antoine Bootz, whose photographs make up the pages of the book.
Published by Glitterati Press, it opens with a foreword by New York Magazine's Wendy Goodman. 'I am inspired every time I visit the Ralph Pucci showroom,' she says. 'It illustrates the synergy between art and design, and it seems that each new installation of The Wall is better than the last. [Ralph] has always known how to challenge artists to come up with something new and exciting.'
Documenting 40 different incarnations of The Wall, the book shows Pucci's breadth of vision as a gallerist. Still best known as the innovator in the mannequin industry, Pucci has used his acumen to take his Manhattan space to another level. 'There are no rules or formulas as to how The Wall can or will be treated,' he says. 'I may have painted over all our great installations on The Wall in the past but that has always been a part of the spirit of the space. The Wall is temporary, like a flower in bloom.'