Success by the book: the tale of Italian brand Natuzzi's evolution is revealed in a new tome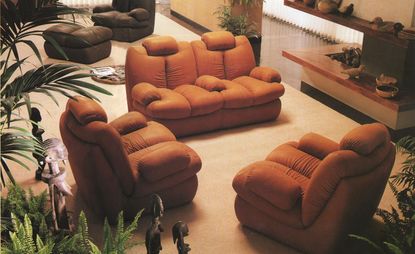 (Image credit: Natuzzi)
The last chapter of Italian furniture brand Natuzzi's first book is titled 'The beating heart of Natuzzi'. It would also, one could argue, act as a fitting title for the new tome itself. When a brand revisits its history and successes, it tends to take a 'greatest hits' approach, delivering a catalogue-style book of brilliant designs. Natuzzi took a different tack, creating a narrative of its intriguing business history.

'The story of how a small workshop located in a village in southern Italy transformed itself into a multinational company, selling its products all over the world, is just remarkable,' states author Luca Condosta in the opening pages of Natuzzi: The Italian Harmony Maker. Like any epic, the story kicks off at the beginning of the journey, in this case right after the Second World War, where brand founder Pasquale Natuzzi is described as coming from a humble family of carpenters. What follows is an in-depth exploration of how he built an empire. Natuzzi is now Italy's largest furniture company, with an annual turnover of over €457m.
But the story isn't just a long list of successes. There are defeats, losses and tragedies along the way. The growth of the company is not just celebrated – rather, it's explained right down to R&D, human resources and the quality of craftsmanship, Condosta leaving no stone unturned in the nitty gritty of Natuzzi's evolution.

That success came, said Natuzzi in his 2004 and 2005 annual reports, 'by sailing towards the future with unique straight and energy, sticking together during hard times and working closely towards common goals'. As the pages turn, Condosta turns Natuzzi's business profile into a biographical-style read, reflecting on relationships as well Natuzzi's personal achievements as an entrepreneur.

When discussing why the author, a finance professional, decided to take on this project, Condosta writes that 'there must be some magic in this small village that guards the history and success of Natuzzi'. For those seeking inspiration, Natuzzi: The Italian Harmony Maker is a refreshingly honest, all-encompassing thesis on how to run a successful business.
INFORMATION
Natuzzi: The Italian Harmony Maker, by Luca Condosta, £19.99, published by Lid (opens in new tab). For more information, visit the publisher's website (opens in new tab)